Published Oct. 10, 2021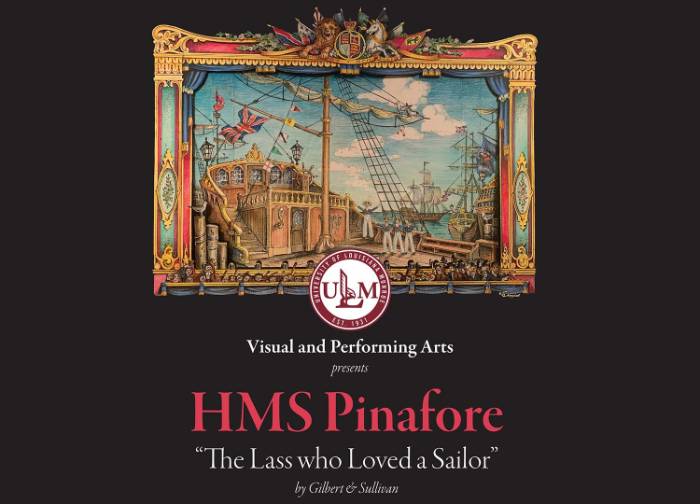 ---
Want to go?

WHAT:

 

VAPA "HMS Pinafore" performance

WHEN:

 

7:30 p.m., Thursday, Friday, and Saturday, Oct. 14, 15, and 16; 2 p.m., Sunday, Oct. 17

COST:

 

Free for ULM students, $15 for general admission
---
By Ashlyn Dupree
ULM Office of Marketing and Communications
MONROE, LA— The University of Louisiana Monroe School of Visual and Performing Arts debuts "HMS Pinafore: The Lass Who Loved a Sailor" Oct. 14-17 in Brown Auditorium.  
VAPA will be presenting "HMS Pinafore" by Gilbert & Sullivan Thursday, Friday, and Saturday, Oct. 14-16, at 7:30 p.m., and a Sunday matinee, Oct. 17 at 2 p.m. in Brown Auditorium. Tickets are free to ULM students; general admission is $15 and available through Eventbrite.
This timeless treasure of music and theatre features quirky, off-beat characters, beautiful melodies, a brilliant script, and a ULM student cast with equal singing and acting talent.
The classic G&S operetta has not been performed at ULM for decades, while the other G&S popular hits, "The Pirates of Penzance" and "The Mikado," have been locally staged in the last 10 years. This production is staged by director Mark Ross Clark, Ph.D., with music director Richard Seiler, DMA, technical director Steve Burnside, and costumer Margaret Hall.
Hanna Atsededoin and Jennifer Smith perform Josephine; Ralph Rakestraw is Preston Anderson; Thomaneisha Little and LeAnn Hammons are performing the role of Miss Buttercup; Captain Corcoran is James Wright, while Sir Joseph Porter is Jonathan DeDou and Keagan Jones, and Cousin Hebe is Leslie Hobgood and LeAnn Hammons. The villainous Dick Deadeye is Ryan Kersh and Gabe Wright, and the boatswain is Wyatt Sage. Nathan Newsom augments the sailors, and sisters and aunts are Reagan Dukes, Madison Hernandez, Abigail McClung, and Mallory Spradling.
Clark said, "The story is a simple one, taking place on a ship in dock, the HMS Pinafore. One of the sailors, Ralph Rakestraw, is in love with his Captain's daughter. However, the Captain has other plans for his daughter, intending for Josephine to marry the very-higher class Sir Joseph Porter, KCB (a very important but much older man). She (of course) prefers Ralph (after weighing the pluses and minuses of both matches), and they plan to elope in the middle of the night, assisted by the crew. This plot, however, is foiled by Dick Deadeye, one of the sailors (and the show's chief villain), who is jealous of Ralph. There are some more surprising twists and turns, which is a feature of the great G&S shows. Look for Miss Buttercup to provide that feature."