Published Sept. 24, 2021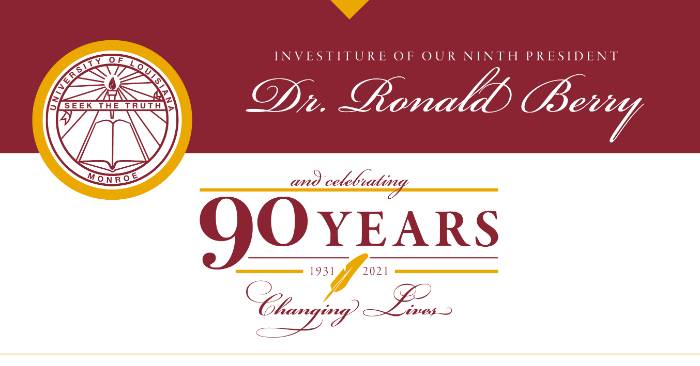 University of Louisiana Monroe President Ron Berry and Dr. Christine Berry kick off Investiture and 90th Anniversary Week on Monday, thanking local public and nonprofit partners by "Bringing the Bayou to You."
The Berrys, joined by the Executive Council and student leaders, will deliver celebration cakes to nonprofit and public partners. From 9-10 a.m., cakes will be served at Monroe City Hall and West Monroe City Hall from 10:30-11:30 a.m.
On Tuesday, the ULM/United Way of Northeast Louisiana "Take Flight Through Reading" project debuts with the Berrys and volunteers reading the original ULM book, "There's a Bridge on the Bayou" to third graders from Monroe City Schools. Volunteers will bring "Take Flight Through Reading"  to third-grade classrooms in Ouachita Parish on Wednesday.
Each book contains a $500 scholarship, redeemable when the student enters ULM in 2031, the 100th anniversary of the institution. The students must present their copy of the book to receive the scholarship.
ULM will give more than 2,000 copies to all third graders in local partner schools.
Envision is a black-tie-optional ticketed event at Bayou Pointe Event Center on Thursday beginning at 6:30 p.m. with cocktails, followed by a dinner and a program at 7 p.m. It concludes with a fireworks show at 9 p.m. Tickets are on Eventbrite at
tinyurl.com/ulmenvision2021
; $75 per person, $50 for faculty and staff, and $800 per table.
The public is welcome to watch the fireworks from the banks of Bayou DeSiard, beginning at approximately 9 p.m.
The Investiture processional begins at 9:30 a.m. Friday across the ULM Bridge to Fant-Ewing Coliseum. The Investiture ceremony of ULM's ninth president starts at 10 a.m., and the public is invited to attend this historic event in the life of the university,
The Investiture will be livestreamed at
ulm.edu
. Face masks must be worn indoors at the coliseum.
Face coverings are required at all campus events.