Published Feb. 8, 2021
University of Louisiana Monroe President Ronald Berry, D.B.A., announces the appointment of John W. Sutherlin, Ph.D., as Chief Innovation and Research Officer (CIRO).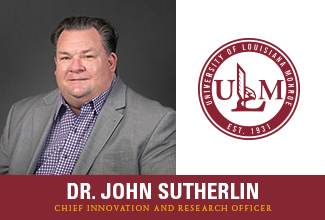 Sutherlin, a Professor of Political Science in the College of Business and Social Sciences, served as Director of ULM's Office of Sponsored Programs and Research for three years. He developed the first licensing agreement for a ULM invention that continues to pay royalties to the university. Sutherlin also co-founded the Social Science Research Lab at ULM. Most recently, he participated in the development of King Springs, a bottled water company in Ouachita Parish.
As CIRO, Sutherlin will drive and maximize revenues, promote faculty research and expand student learning opportunities from innovation and research.
"Dr. Sutherlin's knowledge and experience in the areas of research and innovation will serve ULM well as we enhance our support infrastructure for faculty and staff and seek out new partnership opportunities," said Berry.
Sutherlin said he sees tremendous potential for innovative change and growth in all colleges and departments at ULM.
"The ULM community of students, staff, and faculty have the collective expertise and creativity to continue making significant innovative impacts. I envision this office as going beyond grants and contracts.  Working across disciplines and experiences can bring opportunities that change lives," added Dr. Sutherlin. 
Sutherlin joined the university in 2005. He is an author, documentary film producer, and patented inventor. 
Related ULM articles
ULM a key partner in development of new King Springs bottled water company in West Monroe
ULM partners with LSU to deliver STEM education program to Northeast Louisiana
ULM, Northeast Delta HSA commit to improving lives of NELA's elderly