Published June 30, 2021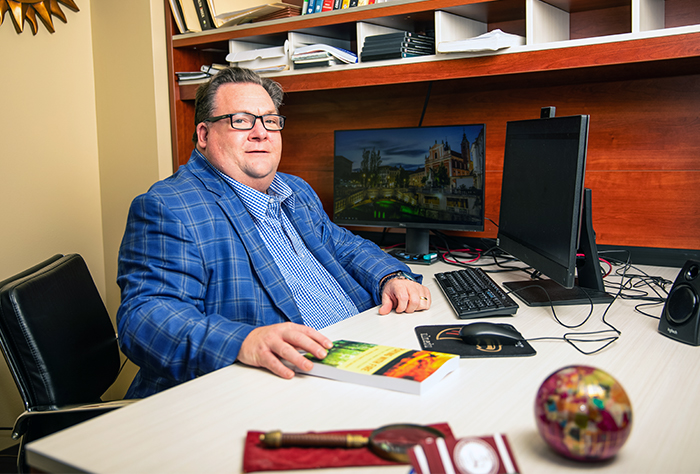 Dr. John W. Sutherlin is the University of Louisiana Monroe Chief Innovation and Research Officer. Sutherlin is a ULM Professor of Political Science, author, patented inventor, and film producer. Siddharth Gaulee/ULM Photo Services
"We want to do the things that matter, that will have an impact."
What are attributes shared by visionary tech billionaire Bill Gates, civil rights leader Dr. Martin Luther King, Jr., and rock legend David Bowie?
"Fearlessness" is what John W. Sutherlin, Ph.D., — the University of Louisiana Monroe's first Chief Innovation and Research Officer — puts at the top of the list.
Whether tech wizards or social justice activists or pop music boundary-breakers, they all take significant risks and "force a different way of looking at things," according to Sutherlin, providing examples for how to approach entrepreneurial innovation at the university.
"Our fear of failure holds us back," Sutherlin said. "It takes dedication to remain open to change and to stay relevant and innovative."
"Our fear of failure holds us back. It takes dedication to remain open to change and to stay relevant and innovative."
Dr. John Sutherlin                                  Chief Innovation and Research Officer
This very willingness to take risks is what young university students often have in droves, Sutherlin said, which is why he strives to reach first-generation students and those from diverse backgrounds to stoke their interest in research and innovation.
"People of different backgrounds can bring good ideas and need to be encouraged to pursue their interests without fear," he said.
Sutherlin said his role is to act as a facilitator, searching for innovative work-study opportunities and internships through partnerships with the public/private sector. At the same time, he identifies internal opportunities with the assistance of faculty and staff across all disciplines.
"We do not want to exclude any decent ideas," he said. "We want to do the things that matter, that will have an impact."
Some of these ideas may lead to commercial developments, while others will be more academic. Much of Sutherlin's role is based on research into similar innovation hubs at universities across the state and the nation.
These hubs have emerged in response to the nation's pivot toward a project-based economy. The need for agile solutions to real-world problems is pressing, and having idea-fostering environments is essential to creating change.
As Chief Innovation and Research Officer, Sutherlin is exploring several possibilities, including stackable micro-credentials — short courses that will develop specific, relevant skillsets within a student — which may be paired with a more traditional degree.
For example, according to Sutherlin, there could be opportunities for a student to earn a certificate in computer coding paired with a Bachelor of Science in Information Technology.
Sutherlin said the best synergy occurs when everyone, whether a member of the ULM community or a member of the business community, comes together to identify challenges and workable solutions that will benefit the region.
"There's a give-and-take that occurs, a free flow of information from the community to the university and back. This give-and-take is essential to doing research and innovation with impact," he said.
Sutherlin is not entirely new to the innovation mindset.
A professor of Political Science in the College of Business and Social Sciences, Sutherlin served as director of ULM's Office of Sponsored Programs and Research for three years. He developed the first licensing agreement for a ULM invention that continues to pay royalties to the university.
Sutherlin also co-founded the Social Science Research Lab at ULM and recently participated in the development of King Springs, a bottled water company in Ouachita Parish. He joined the university in 2005 and is an author, film producer, and patented inventor.
In 2021, Sutherlin and co-author Daniel Elliot Gonzales wrote "Playing with Fire – The Strange Case of Marine Shale Processors," published by Hamilton Books. The true story chronicles a group of Louisiana women taking on the largest hazardous waste company in the world in a fight for their families' health and well-being and the environment.