Published July 23, 2021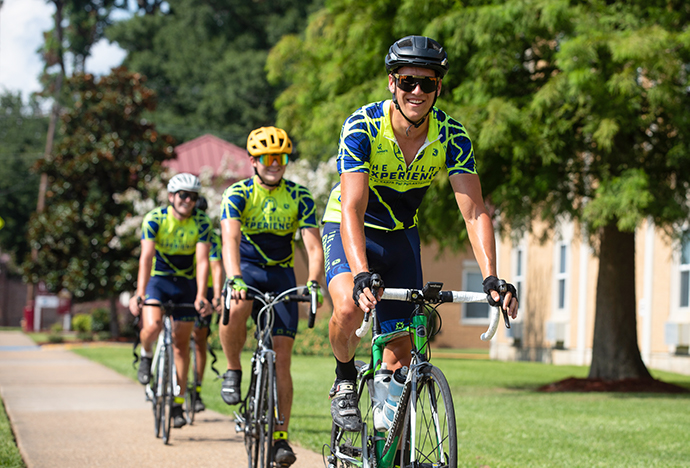 Journey of Hope cyclists arrive at ULM Wednesday on their way from California to Washington, D.C. Twenty cyclists and six crew visited with ARCO clients, enjoyed a meal and spent the night on campus. The Journey of Hope is to raise awareness and funds for the disabled.
Siddharth Gaulee/ULM Photo Services
For the 11th year, the South Route team has taken an overnight break at ULM. This week the guests stayed at Ouachita Hall on campus.
Around 4:30 p.m. Wednesday, 20 enthusiastic ­– if not a bit weary – bicyclists with Journey of Hope arrived at the University of Louisiana Monroe.
Hot and tired after pedaling more than 100 miles from Shreveport to Monroe, the cyclists and six support crew looked forward to a shower, Southern cooking, and a bed for the night.
But not before they did what they came here to do ­– spend time with some clients from ARCO – A Community Resource.
ARCO has served the community for more than 65 years, providing services to people with developmental disabilities and empowering those individuals and their families.
Helping those with disabilities is the goal of Journey of Hope, a project of The Ability Experience. The cyclists are traveling from the West Coast to Washington, D.C., – a 3,600-plus-mile trip to raise funds and awareness for people with disabilities.
Jaime Jimenez, project manager for the Journey of Hope South Route team, arrived at ULM ahead of the cyclists to meet with volunteer Kathy Terracina of Monroe. Terracina brought Journey of Hope to ULM in 2009 when her son joined the cross-country trek.
"I called Tresea Buckhaults (ULM Director of Residential Housing) and said, 'These boys can't sleep on a gym floor!'" Terracina said. "She has been wonderful ever since."
For the 11th year, the South Route team has taken an overnight break at ULM. They missed 2020 when COVID-19 halted the journey. The guests stayed at Ouachita Hall on campus.
Jimenez said they hope to raise $700,000 with Journey of Hope to support The Ability Experience, philanthropy founded in 1977 by Pi Kappa Phi. He said it is the only philanthropy owned by a social fraternity, which means all funds raised by PKP empower those with disabilities. More than $20 million has been raised for The Ability Experience.
After resting Thursday at the lake home of a local PKP alumni, the team sets off Friday for the 90-mile ride to Vicksburg. The three teams traveling the country will meet Aug. 14 in the nation's capital. There, the team and supporters will celebrate the Journey of Hope and what it accomplished for not only the disabled but also those who participated.