Published Dec. 3, 2021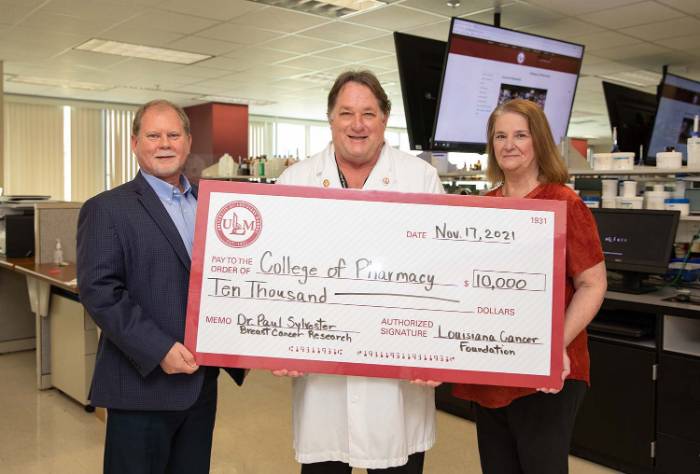 Executive Director of the Louisiana Cancer Foundation James Adams, left, presents $10,000 to Paul Sylvester, Ph.D., of the University of Louisiana Monroe College of Pharmacy, joined by LCF Assistant Director Donna Jackson. 
Siddarth Gaulee/ULM Photo Services
---
Support for cancer research leads to Sylvester and students presenting at American Association for Cancer Research Annual Meeting in New Orleans in April
---
For 16 years, the Louisiana Cancer Foundation has supported the breast cancer research of Paul Sylvester, Ph.D., of the University of Louisiana Monroe College of Pharmacy. The LCF's most recent donation of $10,000 in November brings the total to $147,500 in funding for Sylvester's research.
James Adams, Executive Director of the Northeast Cancer Institute and LCF, and Donna Jackson, Assistant Director of the LCF, presented a check to Sylvester in the laboratory at the pharmacy building.
"This is the 16th donation of $10,000 the Louisiana Cancer Foundation has made for Dr. Sylvester's work," said Adams. "As a local cancer foundation with funds raised in our community, it is important that we support our local cancer research."
Sylvester, an endocrinologist, joined the ULM College of Pharmacy in 2001. He is Associate Dean of Research and Pfizer, Inc. B.J. Robison Endowed Professor of Pharmacology. His research focuses on the anti-breast cancer effects of tocotrienols, a rare natural form of vitamin E.
"We've had a longtime partnership with the Louisiana Cancer Foundation, and I am grateful for their continuous support. Over the years, these donations have had a tremendous impact on the research we are doing," Sylvester said.
The LCF also supports ULM with an endowed scholarship for a student who is a cancer survivor or has been impacted by cancer in their family. Established in 2019 with a $50,000 endowment, the LCF increased the scholarship by $5,000 in 2021. In the Kitty DeGree School of Nursing, the LCF has donated $30,000 to the Theresa Marsala Memorial Endowed Nursing Fund and $22,450 for oncology classes.
Sylvester and graduate students to present at world's largest cancer research meeting
The American Association for Cancer Research has accepted four posters that Sylvester and his graduate students submitted for presentation at the annual meeting in April in New Orleans. The presentation is on the novel treatment of triple negative breast cancer. The ULM Pharmacy students are Tasmin Sultana, Nayef Aldabaan, Rafi Anwar, and Jessie Grazier. 
The AACR Annual Meeting is the epicenter of cancer research, where the latest discoveries are shared and discussed. The meeting draws 15-20,000 attendees, including healthcare professionals, researchers, scientists, patients, advocates, and survivors.
In addition to LCF, Sylvester has been awarded grants from the National Cancer Institute at NIH, American Cancer Society, American Institute of Cancer Research, and First Tech International Ltd. Sylvester has authored 145 peer-reviewed research publications, 22 book chapters and has presented more than 162 talks at national and international scientific conferences.
About the LCF
The Louisiana Cancer Foundation was formed in 1999 as a local 501C3. The mission is to promote quality-of-life for cancer patients and family members while providing Louisiana citizens with accurate and up-to-date information on prevention, detection, and cancer treatment. 
The Cancer Foundation League, the fundraising arm of LCF, has helped over 5,300 local cancer patients since 2002 with more than $2 million in financial assistance.