Published March 10, 2021
The University of Louisiana Monroe Office of Marketing and Communications' creative work was recognized with eight awards, plus the first-time 2020 Humanitarian Award, by the Ad Club of NELA at the 55th Annual American Advertising Awards.
OMC won awards for print and digital media, including the 2020 issues of ULM Magazine, TakeFlight magazine, television advertising, and photography.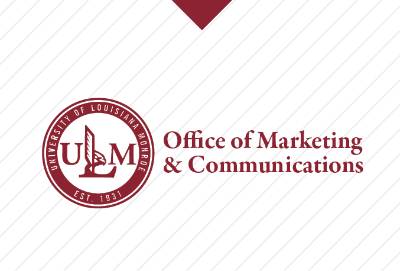 OMC Executive Director Kelsey Bohl, Ed.D., received the Ad Club's inaugural Humanitarian Award recognizing an exceptional individual for service and community contributions to Northeast Louisiana.
Members of Team OMC are Executive Director of Marketing and University Communications Kelsey Bohl, Creative Director Srdjan Marjanovic, Director of Public Relations Hope Young, Project Coordinator Sharon Bratton, Visual Media Specialist Sid Gaulee, Digital Media Specialist Molly Masters, Social Media Specialist Jeanette Robinson, and Graphic Design Coordinator Shanette Washington.
OMC awards
Gold – Collateral Material/Magazine Design for ULM Magazine Fall 2020 (Marjanovic, team)
Silver – Collateral Material/Magazine Design for Takeflight Magazine Spring 2020 (Marjanovic, team)
Silver – Online/Interactive, Blogs & Digital Publications for Bayou Gems Blair Guillory (Robinson, team)
Silver ­– Film, Video & Sound, Television Advertising for Bayou's Gem (Masters, team)
Silver – Elements of Advertising, Still Photography for Bayou Sunrise (Gaulee, team)
Bronze – Out of Home & Ambient Media, Single Unit Poster for ULM VAPA Day Poster (Washington, team)
Bronze ­– Online Film, Video & Sound, Branded Content & Entertainment for ULM Happy Holidays (Masters, team)
Best of Interactive – Bayou Gems Blair Guillory (Robinson, team)
"The Office of Marketing and Communications is an extremely close-knit team because everyone contributes their unique talents to each project," said Bohl. "OMC is a small group of super-creative people who deliver their best work every day for our university, and I consider myself very lucky to be a part. 
Bohl was surprised when the 2020 Humanitarian Award was announced during the virtual awards ceremony on March 4.
The Humanitarian Award was created to honor someone who "promotes and participates in community activities and programs that have positively impacted our region by making outstanding contributions through their knowledge, skills, and/or services on behalf of others."
"I am so honored to be the first recipient of the NELA Ad Club Humanitarian Award. I love the Northeast Louisiana community, this is my home, so it's a joy to give back to the community through service," stated Bohl. 
Bohl served as chair of the 2019 ULM Women's Symposium and committed herself to diversity and inclusion. She on the boards of AAF-NELA, Junior League of Monroe, Louisiana Delta Ballet, Public Relations Association of Louisiana – Northwest Louisiana Chapter, and the city of West Monroe Master Plan Steering Committee.
In addition to her community involvement, in 2020, Bohl led university communications through a presidential transition, a global pandemic, and two named storms.