Published Jan 26, 2021
The University of Louisiana Monroe's Master of Science in Nursing ranks #57 of 194 programs, nationally, in the 2021 U.S. News and World Report Best Online Programs. Rankings were published Tuesday, Jan. 26, 2021, on usnews.com.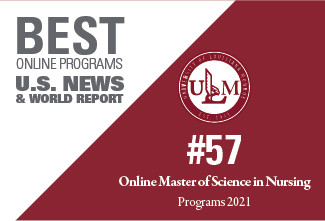 The ULM Online MSN – Gerontologic Clinical Nurse Leader Online is an accelerated CNL program of the Kitty DeGree School of Nursing. The first of its kind offered in Louisiana, ULM's program prepares nursing professionals for careers in the growing field of caring for gerontology patients.
KDSN Director Wendy Bailes, Ph.D., said being nationally recognized points to the nursing program's excellence and the demand for specialized advanced degrees.
"We are honored to be included in the top 100 MSN online programs in the nation. There are so many programs out there that students can choose, and to be identified with this ranking is a testimony to our faculty, staff, students, alumni, and our leadership outside of the Kitty DeGree School of Nursing. This is the icing on the cake of a phenomenal year in which we also received continuing full accreditation from the Commission on Collegiate Nursing Education (CCNE) until December 31, 2030."
ULM College of Health Sciences Dean Don Simpson, Ph.D., said the choice of a nursing school and degree program plays a pivotal role in an individual's future career.
"The Kitty DeGree School of Nursing impacts health by demonstrating practice excellence, promoting equity, and preparing leaders in the field of nursing.  Our incredible faculty and high-caliber students create the synergy necessary to advance learning and practice," Simpson said. "As a result, people at all levels of society are positively impacted by graduates of our master's program through ULM Online who in turn become leaders in their fields."
The ULM Nursing program is ranked No. 6 of the 20 Top Online Programs for Clinical Nurse Leadership 2021 by Healthcare Management Degrees Guide.
The demand for qualified nurses, intensified by COVID-19, is projected to rise. According to the U.S. Bureau of Labor Statistics, nursing jobs will increase by 12 percent by 2028. In Louisiana, an MSN Clinical Nurse Leader's average annual salary is $106,801 (ZipRecruiter, May 2019).
For information on ULM Online, visit ulm.edu/onlinedegrees, email onlinedegrees@ulm.edu or call 318-342-3145.
Related ULM News 
Kitty DeGree School of Nursing BSN, MSN reaccredited through 2030