Published April 12, 2021
The University of Louisiana Monroe School of Visual and Performing Arts has announced the participants and winners in the 24th Annual ULM Juried Student Art Exhibition.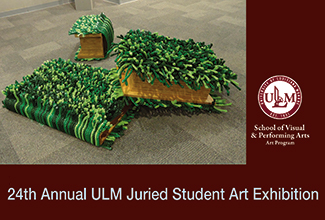 The exhibit features 37 works by 21 students majoring in art in the College of Arts, Education, and Sciences.
The public is invited to visit Bry Gallery from 8 a.m.-4:30 p.m. Monday-Thursday and 8-11:30 a.m. Friday to see the exceptional talent of these student artists.
Students represented include Trinity Bass, Sunil Bishwokarma, Halie Burnside, Daija Essien, Bailey Ewing, Vivian Graham, Barbara Goins, Emily Henderson, Chloe Key, Lily Meade, Darby Miles, Janiece Mott, Colby Neeley, Alex Norwood, Cenz Operario, Elysabeth Peoples, Nick Pepper, Linda Ratliff, Allison Stephens, Ruby Taylor, and Celina Walters. 
Joni Noble, Ph.D., professor of art and program coordinator, said the students' submissions are impressive, particularly with everyone's challenges during the past year.
"This was an excellent show, especially given the year of the COVID pandemic that we have experienced. The students have continued to pursue their art practice, and the show this year is reflective of all of their hard work," Noble said.
ULM Foundation Awards
Merit Awards ­– Ruby Taylor, Allison Stephens, and Emily Henderson

ULM Foundation Awards – Vivian Graham and Elysabeth Peoples 

The Northeast Louisiana Arts Council – Award for Creativity to Darby Miles and Award for Artistic Skill to Emily Henderson.

Ken O'Neal Design Awards – Allison Stephens and Ruby Taylor 

Ken O'Neal Alumni Award of Excellence – Barbara Goins 

O'Neal Family Art Program Award – Linda Ratliff

Art Program Award – Halie Burnside

Gretchen Dean Best of Show Award – Nick Pepper
Administrator's Choice Awards
To be considered for these awards, the students agreed to the ULM Art on Loan Program, which means their work will be on display in the respective administrative offices for one year. Each student received a stipend.  
Dr. Ron Berry, University President – Sunil Bishwokarma's "Himalayan Highness"      

Dr. Alberto Ruiz, Vice President of Academic Affairs – Daija Essien's "Whimsical Emotions" 

Dr. Valerie Fields, Vice President for Student Affairs – Barbara Goins' "Dreamland" 

Dr. Michael Camille, Vice President of Information Services and Student Success – Alex Norwood's "L'ete"

Lisa Miller, Interim Vice President Enrollment Management and University Relations – Nick Pepper's "Halo" 

Dr. John Pratte, Dean of the College of Arts, Education & Sciences – Linda Ratliff's "Satsumas Segmented" 

Dr. Chris Michaelides, Associate Dean of the College of Arts, Education and Sciences – Barbara Goins' "Organic Self Portrait" 

Dr. Derle Long, Director of the School of Visual and Performing Arts – Allison Stephens' "He Sits" 

Dr. Lisa Vanhoose, Director, Doctor of Physical Therapy Program – Ruby Taylor's "I. N. A. H."