Published Nov. 24, 2021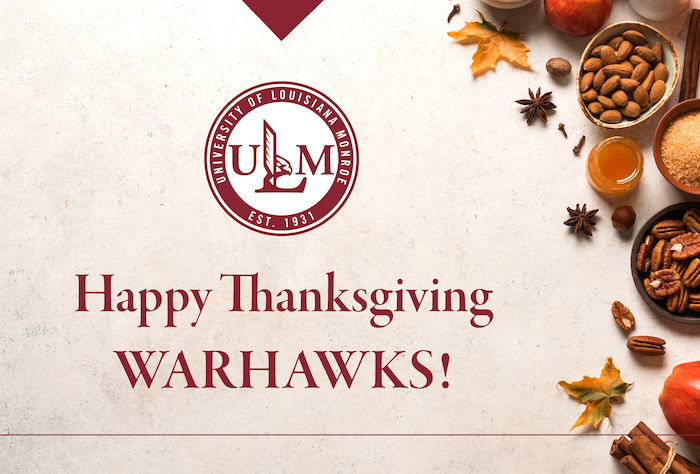 Classes and regular business hours resume at 7:30 a.m., Monday, Nov. 29.
The University of Louisiana Monroe campus will close for the Thanksgiving holidays at noon, Wednesday, Nov. 24, and remain closed Thursday and Friday, Nov. 25-26.
Classes and regular business hours resume at 7:30 a.m., Monday, Nov. 29.
Dining
Schulze Dining Hall, PODs, and the SUB close at 2 p.m. Wednesday. On Sunday, Nov. 28, Schulze will be open from 2-7 p.m., and the SUB will be open 7-11 p.m. Starbucks closes at noon Wednesday and reopens at 8 a.m. Monday. 
Bookstore
The ULM Bookstore in Sandel Hall will close at noon Wednesday and reopen at 8 a.m. Monday.
Library
The ULM Library closes at 1 p.m. Wednesday and reopens Sunday with regular hours from noon to 2 a.m.
Residential Life
Residence halls will operate as usual. Residents are asked to check Facebook/ulmreslife for reminders on what to do before leaving for the break.
Faith organizations
Campus faith organizations are closed for the Thanksgiving holiday.
Warhawks Football Saturday
The Warhawks Football Team travels to Lafayette for the post-holiday match with the ULL Ragin' Cajuns. The game starts at 3 p.m. KLIP 105.3 FM will broadcast the game live. The radio pregame begins at 1 p.m. with Mike Hammett and Nick White. Follow ULM Football on Twitter @ULM_FB.
Warhawks Basketball 
Warhawks Men's Basketball plays the Tech Bulldogs in Ruston at 6:30 p.m. Wednesday in the Louisiana Tech Classic. The game will be broadcast on KLIP 105.3 FM with pregame starting at 6 p.m. with Nick White. 
At 2 p.m. Sunday, the Warhawks will be at SMU in Dallas. The game will be broadcast on KLIP 105.3 FM. Follow Warhawks Men's Basketball on Twitter @ULM_MBB.
Warhawks Women's Basketball will be in Houston for the Van Chancellor Classic Tournament. Games are 1:30 p.m. Friday against Stetson, 6:30 p.m. Saturday against New Mexico, and 6:30 p.m. Sunday against Stephen F. Austin. The games will be broadcast on KMLB 105.7 FM. Follow Warhawks Women's Basketball on Twitter @ULM_WBB.
Stay safe Warhawks
Remember to have the ULM Safe app downloaded on your cellphone. It's free at App Store and Google Play. In case of emergency, call University Police at 318-342-5350 or dial 911.
Please protect yourself and others by washing hands often, wearing a mask, and practicing social distancing. Have a safe and happy Thanksgiving.
#HappyThanksgivingWarhawks