Published Nov. 1, 2021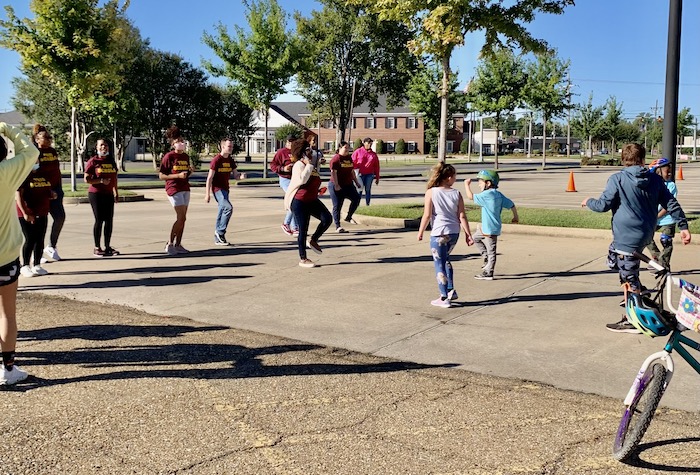 University of Louisiana Monroe TRIO Programs Student Support Services staff and student volunteers lead warm-up exercises at the 3rd Annual Free Kids Bike Race hosted by Pelican State Credit Union. Jyssica Hattaway/TRIO Programs
TRIO-SSS teams with Pelican State Credit Union for Kids Bike Race
The University of Louisiana Monroe TRIO Programs Student Support Services (TRIO-SSS) collaborated with Pelican State Credit Union (PSCU) in a fall community service project. 
Pelican State Credit Union hosted the 3rd Annual Free Kids Bike Race for children ages 12 and younger on Saturday, Oct. 16, at Tower Place in Monroe.
TRIO-SSS volunteers helped with pre-race stretches and warm-up exercises, assembled and distributed goody bags with bike safety tips, and assisted PSCU staff in awarding each participant a medal of achievement. Following each race, PSCU gave door prizes for kids and parents donated from local Ouachita Parish businesses, and three children received a free bike.
The TRIO-SSS program coordinates a community service project each semester for program participants to ensure students understand the value of giving. These experiences provide students with opportunities to develop civic accountability and life skills that prepare them to be thoughtful and productive citizens. 
"Students benefit both academically and emotionally from volunteering their time to make the community and world a better place," said Mystee Burrell, Ed.D. co-associate Director of TRIO Programs.
TRIO-SSS students participating were Curtesia Davis, Lauren Edwards, Enrique Gonzalez, Kyle Hutchinson, Stacia Jinks, Willexus Jones, Brook Little, Emily Mahfouz, Phiphung Phan, Taylor Potter, Janett Solorio, Shamyia Sweet, Cazenski Watson, Lawren Williams, Reaianna Winston, and Ta'Shia Zeigler. Staff participating were Burrell, Tammy Anderson, and Jyssica Hattaway.