Published June 15, 2021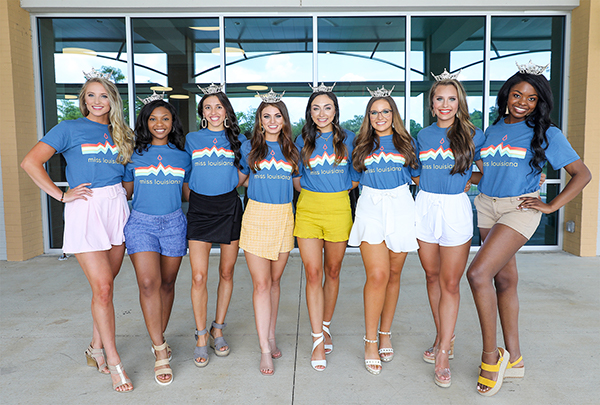 Miss Louisiana 2021 contestants enjoyed a luncheon on Monday at Bayou Point at the University of Louisiana Monroe. ULM has six students and two recent graduates participating in Miss Louisiana. They are, from left, Asja Jordan, Kennedy Boston-Woods, Carmin Velasquez, Allison Newton, Monica Whitman, Laura Willis, Julia Williams, and Ambria Terrell. The new Miss Louisiana will be crowned Saturday, June 19, at the Jack Howard Theatre.
Siddharth Gaulee/ULM Photo Services
ULM hosts Miss Louisiana contestants during competition week
The University of Louisiana Monroe is well represented in the 2021 Miss Louisiana Competition. Six current students and two 2020 alumnae are vying for the title this week at the Jack Howard Theatre.
ULM students participating include Kennedy Boston-Woods, Allison Newton, Ambria Terrell, Carmin Velasquez, Monica Whitman, Laura Willis, and alumnae Asja Jordan and Julia Williams.
For the 16th year, the university is hosting the contestants, who live on campus while participating in Miss Louisiana.
"It is a longtime tradition for the Miss Louisiana contestants to stay at ULM during competition week. We missed having them last year and welcome them all," said Lisa Miller, Vice President of Enrollment and University Relations. "The Miss Louisiana Organization provides scholarships to so many contestants, which shows its commitment to education. ULM is proud to be a sponsor."
Meagan Lee Morris, ULM's Assistant Director of Student Engagement, is the Miss ULM Executive Director. She has been with the Miss Louisiana Organization for 15 years and serves as a local director. She is the liaison between ULM and MLO.
"ULM is a corporate sponsor of the competition by providing in-kind scholarships for the top five competitors, Miss Louisiana's apartment on campus during her year of service, and hosting the dozens of candidates from across our state during competition week," Morris said.
Katie Redman is the University of Louisiana Monroe's Outstanding Teen and competed in the Miss Louisiana's Outstanding Teen Competition on June 13. She placed first runner up and received the Children's Miracle Network Children's Miracle Maker Award for raising more than $7,000 for CMN hospitals.
Live stream for preliminaries and finals competitions Thursday-Saturday: https://bit.ly/3zCm9uv. The finals on Saturday, June 19 will be shown locally on KAQY TV 11.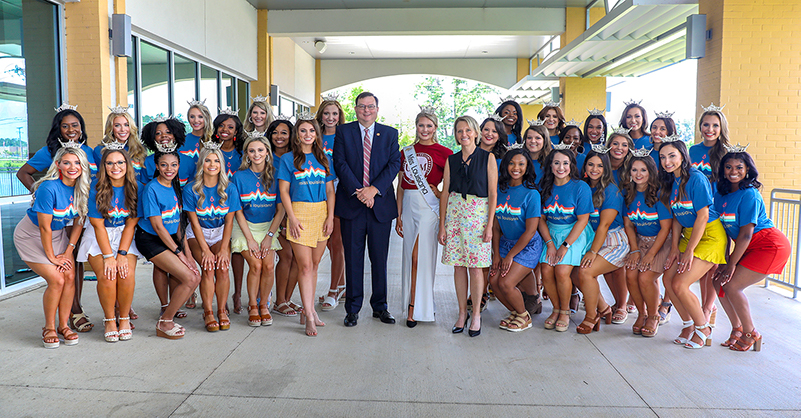 Miss Louisiana 2021 contestants pictured with President Ron Berry and Dr. Christine Berry at a luncheon Monday, June 14 at Bayou Pointe. Eight woment from ULM are in this year's competition.
Siddharth Gaulee/ULM Photo Services
ULM student and alumnae contestants for Miss Louisiana
Kennedy Boston-Woods, Miss Monroe – Boston-Woods is a senior majoring in Marketing. She is from Monroe and is the daughter of Andrea Woods and Christopher Boston. Her Social Impact is "Perfectly Imperfect" and focuses on promoting positive body images through social media. She describes ULM as "a wonderful campus where anyone and everyone is welcome. The staff and students make attending ULM worthwhile. It truly is #theBestontheBayou." As Miss Louisiana, Boston-Woods wants "to encourage all women to embrace who they are and be confident in the skin they're in."
Asja Jordan, Miss Taste of the Twin Cities – Jordan is a May 2020 graduate of ULM with a degree in Communications Advocacy. She is from West Monroe, and her Social Impact is "Potential 2 Kinetic" or "P2K." She described P2K as "a catalyst for growth and transformation within individuals and communities through physical and mental health practices." She said ULM helped mold her into the woman she is today. "Professors, mentors, and my peers have encouraged me to go beyond my comfort zone to pursue the imaginable. I am forever grateful for my Warhawk family!" she said. As Miss Louisiana, Jordan said she would promote her platform P2K. "Through these practices, I believe someone is able to creative positive changes in their lives and communities. I want to be the catalyst for that change as Miss Louisiana," she said.
Allison Renee Newton, Miss University of Louisiana Monroe – Newton graduated from ULM in December 2020 with a Bachelor of Art in Music with a concentration in Vocal Performance. She is enrolled in classes and continuing her education. She is from Monroe and the daughter of Todd and Nicole Newton. Her Social Impact is "Extend Her Life, Extend Her Legacy," promoting female reproductive health. Of her ULM experience, she said, "ULM has amazing resources that prove it is here to ensure the success of its students. Attending ULM is a personalized experience; that is what sets it apart." If chosen Miss Louisiana, Newton plans a "combination of service, leadership, performing, and working with the people of my home state."
Ambria Terrell, Miss Lagniappe – Terrell is a senior in the Kitty DeGree School of Nursing. From Shreveport, Terrell's Social Impact is "LEARN – Let's End Assault and Rape Now." She describes ULM "as a home away from home. It's filled with a beautiful bayou surrounded by diversity and creativity within its student body." Terrell said she wants to be "Miss Louisiana because I want to make a bigger impact in our community. I strive to be a leader in the present moment; however, with the title, I can elevate even further!"
Carmin A Velasquez, Miss Natchitoches City of Lights– Velasquez is majoring in Political Science with a minor in Communications. From Sterlington, she is the daughter of Kimberly and Caesar Velasquez. Velasquez chose the Social Impact "Don't Worry Beat Happy" and hopes to become Miss Louisiana "to be a voice for those misdiagnosed with heart conditions. When I was in middle school, I was misdiagnosed with anxiety, and I want individuals to know they know their body best and to speak up about what is truly going on with themselves." She loves being a Warhawk and said, "ULM is a welcoming and beautiful place to call your home for the next four years of your life!"
Monica Whitman, Miss Dixie Gem Peach – Whitman is a third-year Doctor of Pharmacy student who earned her bachelor's in Pharmaceutical Sciences with a minor in chemistry. The Tioga resident is the daughter of Angie Waggener and Tim Whitman. Her Social Impact is "Full STEM Ahead" to promote STEM courses for high school students. She said, "ULM is a place where you have so many opportunities to get involved, which I love! There is something for everyone, and every single faculty member is there to help you in whatever your goals are after college. It's also the most beautiful campus I've ever seen! If crowned Miss Louisiana, Whitman wants to "redefine who Miss Louisiana is and what she can accomplish. I'm a scientist, and I'm proud to be one. I want to show everyone that Miss Louisiana can be a scientist.
Julia Williams, Miss Heart of Pilot – Williams graduated Summa Cum Laude in December 2020 with a Bachelor of Science in Biology with a concentration in Pre-Med and a minor in chemistry. Williams, from Kinder, is the daughter of Angela Palermo LaBuff and Jim Williams. Her Social Impact is "Find Your FREDDY: Fostering Rewarding Engagements with Disabled and Disadvantaged Youth." Describing her university experience, she said, "ULM feels like a home away from home! The best truly is on the bayou!" She said being selected "Miss Louisiana would provide me with the perfect means by which to bolster community support of disabled and disadvantaged youth while also representing our beautiful state that I so dearly love."
Laura Willis, Miss Krewe de Bon Temps Amis – Willis is a senior in Communications with a concentration in Public Relations. She is the daughter of Lawrence and Kaye Willis and is from Sikes. Her Social Impact, "Promoting Excellence in Youth," provides children the opportunities to develop creativity and talent and provide the resources to become positive contributors to society. Willis considers ULM her home. "I could not imagine these last few years without being a part of this university and its family." If chosen Miss Louisiana, she will "not only represent this state but to serve this state. This state is so uniquely beautiful, and I would love the opportunity to showcase that at Miss America."
Miss Louisiana's Outstanding Teen
Katie Redman, University of Louisiana Monroe Miss Louisiana's Outstanding Teen – Redman is from West Monroe and the daughter of Michael and Yvette Redman. She is majoring in Animal Science Pre-Veterinary Medicine. Redman describes ULM "as my home away from home. I grew up participating in events such as the Miss Louisiana's Outstanding Teen pageant and dance workshops that were held at ULM." Her platform is Rachel's Challenge: Choosing Kindness over Bullying.
#misslouisiana2021