Published Nov. 17, 2021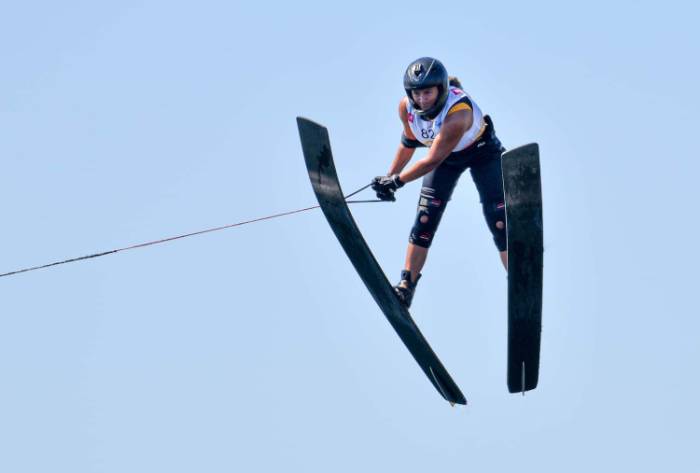 Dominique Grondin-Allard is a current member of the Warhawks Water Ski Team and the 2021 National Collegiate Water Ski Association National Champion. She placed sixth in the Open Women's Jump with a score of 168 feet.
Photo courtesy International Water Ski Federation
---
Former ULM team captain Sasha Danisheuskaya takes Women's Overall
In mid-October, the International Water Ski Federation hosted the 2021 Open World Water Ski Championships at Sunset Lakes in Lake County, FL. The four-day tournament featured over 200 skiers from 34 countries, with 25 former and one current Warhawks Water Ski Team member.
Current Warhawk Dominique Grondin-Allard came home with sixth place in the Open Women's Jump with a score of 168 feet. Grondin-Allard is a graduating senior and the current 2021 National Collegiate Water Ski Association's National Champion. She also reclaimed the Canadian Open women's jump record earlier this fall and helped lead the Canadian Open Team to a gold medal in this year's World's Championships.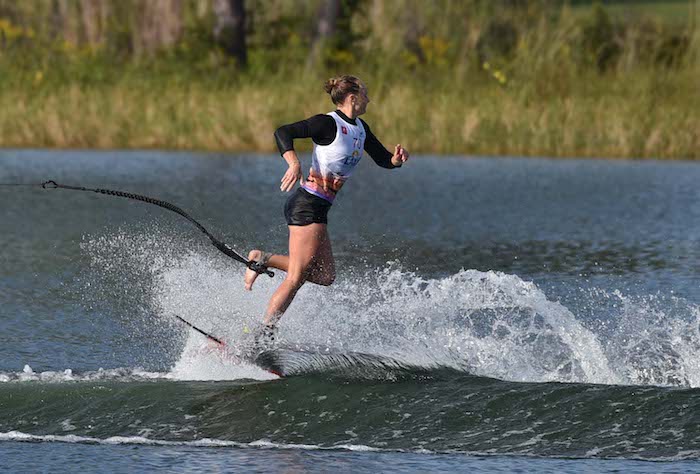 University of Louisiana Monroe Warhawks Water Ski Team alumna Sasha Danisheuskaya placed first in the Women's Overall at the 2021 Open World Waterski Championships. Here Danisheuskaya demonstrates her skills in the trick competition.

Photo courtesy International Water Ski Federation
---
In Women's Overall, former ULM Warhawks Water Ski Team Captain Sasha Danisheuskaya placed first, narrowly defeating former ULM teammate Hanna Straltsova by a mere 8.3 points. In the Women's Overall event, scores from all three preliminary events ­– slalom, trick, and jump – are combined into one score. Danisheuskaya also placed 17th in women's slalom, fourth in the women's jump finals, and eighth in women's trick.
Former Warhawk and the current U.S. collegiate record holder, Hanna Straltsova, placed second in the overall competition, 27th in slalom, 12th in the trick event, and second in jump. Straltsova also was part of the Belarus National team, which placed fifth.
ULM Water Ski Coach Zane Nicholson praised the performances of all Warhawks competitors – past and present.
"At this event they had all the world's top skiers competing for a title. These athletes have trained their entire lives to become the top in their sport. It's a tough and emotional week of skiing because becoming a world champion is the highest honor in the water ski world," Nicholson said.
Also competing in the Women's Overall, Eleanor Benjamin placed 12th, with a 51st in slalom, 29th in trick, and 12th in jump, helping lead the British team to second in the team competition, its highest placement in many years. 
In Men's Overall, alumnus Danylo Filchenko became the first person from his home country of Ukraine to stand on an Open World Water Ski podium with a bronze medal in Men's Overall. Filchenko placed 52nd in slalom, 12th in tricks and ninth in jump. 
Also competing in the Men's Overall event, ULM alumni and defending World Champion Martin Kolman (Czech) finished in ninth overall with 2613.82 points, and Warhawks teammate Adam Sedlmajer (Czech) finished in fifth place with a score of 2613.82 points.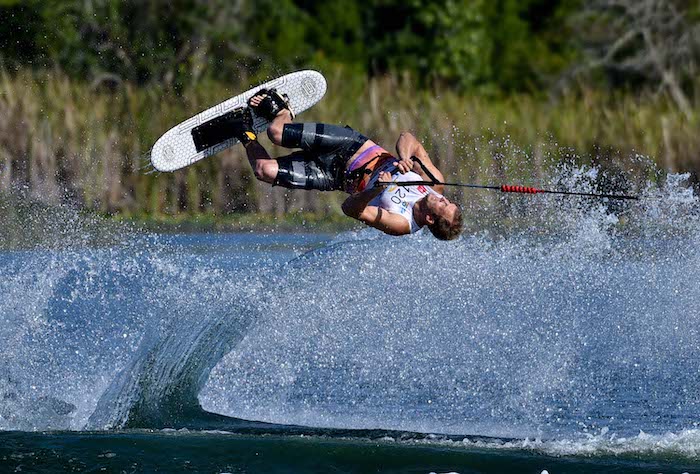 Martin Kolman was a standout at ULM and is the defending World Champion. He finished ninth in the Men's Overall event.
Photo courtesy International Water Ski Federation
---
In Women's Slalom, Regina Jacquess – ULM Pharmacy alumna, U.S. skier, and current Open World Record Holder – took second place with a score of 9.25 m or 41' off. Manon Costard (France) finished out the women's podium with a bronze medal, and Karen Truelove-Krueger (USA) placed fifth.
The near-perfect conditions in the Men's Slalom event made it one of the most challenging slalom finals to qualify for. Still, ULM's Thomas DeGasperi (Italy), Adam Sedlmajer (Czech), and Freddie Winter (Great Britain) found themselves in a six-way tiebreaker round, with DeGasperi victorious for the silver medal. Sedlmajer and Winter tied for a final score of fourth place.
In the trick event, alumna Natallia Berdinkava (Belarus) placed fifth with 8040 points. In the men's event, three Warhawks managed to break into the finals, but no one managed to make the podium, with Adam Pickos (USA) finishing in eighth, Martin Kolman in 10th place, and Filchenko finishing in 12th place. Alumnus and Men's World Record Holder Aliaksei Zharnsek (Belarus) suffered an early fall in the preliminary rounds and unfortunately did not qualify for final.
In the men's and women's jump events, former ULM Warhawks truly took flight. Former ULM skier and Open World Record holder Ryan Dodd (Canada) took home a gold with a winning distance jump of 232 feet, 10 feet farther than alumnus Freddy Kruegar (USA), who finished in second place. Former Warhawks skier Taylor Garcia was only 1-foot shorter than Kruegar and finished in fifth.   
In the women's jump event, finals saw two former and one current Warhawk soaring past the competition, Straltsova's second place in jump of 182 feet followed by Women's Overall Champion, Danisheuskaya, and by current women's team captain Allard-Grondin.
About the ULM Warhawks Water Ski Team
The ULM Water Ski Team was founded in 1977 and has won 29 National Collegiate championships, many collegiate, and world open records. Please see www.ulmwaterski.com for more information or contact the ULM Water Ski Coach, Zane Nicholson, nicholson@ulm.edu.
Full results for all ULM alumni:


Women's Slalom:
Finals:
Regina Jacquess, USA (2nd place, 1 @10.25 m)
Manon Costard, France (3rd, 4.5 @10.75 m)
Karen Truelove-Krueger, USA (5th, 1.5 @10.75 m)


Prelims:
Regina Jaquess, USA (1st place, 1 @10.25 m)
Manon Costard, France (3rd, 4.5 @10.75 m)
Karen Truelove-Krueger, USA (8th, 1.5 @10.75 m)
Sasha Danisheuskaya, Belarus (17th, 5 @11.25 m)
Hanna Straltsova, Belarus (27th, 2.5 @ 11.25 m)
Natallia Berdnikava, Belarus (39th, 0.5 @ 11.25 m)
Eleanor Benjamin, Great Britain (51st, 1.5 @12 m)
Women's Trick:
Finals:
Natallia Berdnikava, Belarus (5th, 8040 pts)
Sasha Danisheuskaya, Belarus (8th, 7320 pts)
Hanna Straltsova, Belarus (12th, 3490 pts)
Prelims:
Natallia Berdnikava, Belarus (, 8720 pts)
Sasha Danisheuskaya, Belarus (, 6400 pts)
Hanna Straltsova, Belarus (, 7050 pts)
Eleanor Benjamin, Great Britain (29th, 2980)
Women's Jump:
Finals:
Hanna Straltsova, Belarus (2nd, 182 ft)
Sasha Danisheuskaya, Belarus (4th, 174 ft)
Dominique Grondin-Allard, Canada (6th, 168 ft)
Prelims:
Hanna Straltsova, Belarus (3rd, 177 ft)
Sasha Danisheuskaya, Belarus (6th, 169 ft)
Dominique Grondin-Allard, Canada (4th, 171 ft)
Eleanor Benjamin, Great Britain (21st, 142 ft)
Jennifer Benjamin, Great Britain (27th, 124 ft)
Women's Overall:
Sasha Danisheuskaya, Belarus (1st, 2573.62 pts)
Hanna Straltsova, Belarus (3rd, 2565.29 pts)
Eleanor Benjamin, Great Britain (12th, 1721.15 pts)
Men's Slalom:
Finals:
Thomas DeGasperi, Italy (2nd, 3 @10.25m)
Adam Sedlmajer, Czech (4th, 3 @10.25m)
Freddie Winter, Great Britain (4th, 3 @10.25m)
Prelims:
Thomas DeGasperi, Italy (2nd place, 3 @10.25m)
Adam Sedlmajer, Czech (3rd, 3 @10.25 m)
Freddie Winter, Great Britain (4th, 3 @10.25 m)
Martin Bartalsky, Slovakia (18th, 0.5 @10.75 m)
Chris Parrish, USA (28th Place, 3.5 @10.75 m)
Danylo Filchenko, Ukraine (52nd, 4.5 @11.25 m)
Claudio Kostenberger, Austria (58th, 3 @11.25 m)
Martin Kolman, Czech (62nd, 2.5 @11.25m)
Men's Trick:
Finals:
Adam Pickos, USA (8th, 8980)
Martin Kolman, Czech (10th, 7850)
Danylo Filchenko, Ukraine (12th, 7200)
Prelims:
Danylo Filchenko, Ukraine (4th, 11160)
Adam Pickos, USA (8th, 10940)
Martin Kolman, Czech (7th, 11000)
Adam Sedlmajer, Czech (18th, 9410)
Aliaksei Zharnasek, Belarus (31st, 6600)
Veli-Matti Anttila, Finland (33rd, 5760)

Men's Jump:
Finals:
Ryan Dodd, Canada (1st place, 232 ft)
Freddy Kruegar, USA (3rd, 222 ft)
Taylor Garcia, USA (5th, 221 ft)
Danylo Filchenko, Ukraine (9th, 214 ft)
Prelims:
Ryan Dodd, Canada (3th place, 223 ft)
Freddy Kruegar, USA (4th,226 ft)
Danylo Filchenko, Ukraine (5th, 222 ft)
Taylor Garcia, USA (6th, 223 ft)
Claudio Kostenberger (13th, 212 ft)
Brandon Schipper (22nd, 203 ft)
Adam Sedlmajer, Czech (24th, 200ft)
Alex King, New Zealand (28th, 194 ft)
Martin Kolman (29th, 193 ft)
Men's Overall:
Danylo Filchenko, Ukraine (3rd place, 2727.2 pts)
Adam Sedlmajer, Czech (5th, 2613.82 pts)
Martin Kolman, Czech (9th, 2476.33 pts
Sources:
https://iwwf.sport/record-number-of-waterski-athletes-to-compete-in-2021-visit-lake-county-florida-iwwf-world-waterski-championships/