Published August 16, 2019
The University of Louisiana Monroe School of Education presented Emily Ogden, Louisiana High School Teacher of the Year for 2020, with a $500 award in recognition of her achievements.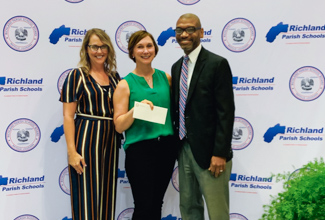 A ULM alumna, Ogden graduated in elementary education in 2013 and is currently enrolled in ULM's Educational Leadership program. 
"The School of Education was proud to offer this award in recognition of Emily's outstanding endeavors, including her service as a mentor for current ULM teacher candidates," said Dr. Shalanda Stanley, Assistant Professor in the School of Education. "We believe in Emily's academic and career goals and wish to support her as she pursues her graduate degree from ULM." 
The $500 award was made possible through the Upshaw Family Endowed Professorship for the School of Education as a part of ULM Advancement, Foundation and Alumni Relations.
"It is my honor to be here to present this award to my former student, Emily Ogden," Stanley said. "I had the honor of teaching Emily in my literacy methods courses and I recognized her star potential. We in the School of Education are so proud to call her one of ours."
In a previous interview with ULM, Ogden said Stanley was an inspiration to her as an undergraduate,
"Dr. Stanley ensured future educators knew the importance of creating a love for reading in our students," Ogden said. "She also gave a piece of advice to my class that has been my mantra since becoming an educator. The advice was, 'students are only going to rise to the expectation you set for them so always set the bar high.'"
"Being a teacher is one of the most rewarding and important professions," Ogden said.