Facilities
Activity Center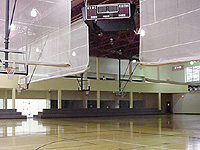 The Activity Center houses the following:
Five regulation basketball courts with 24 total goals
4,200 square foot weight room
Six racquetball courts which double for walleyball
2,300 sq. ft. group exercise room
Multi-purpose gym
Cardiovascular area with bikes, elliptical trainers, etc.
1/6th mile indoor track. The cushioned jogging track includes three lanes marked with "start" and "finish" lines. A member of the Wellness Team is present to assist the participants and to supervise the area.
The upstairs Cardiovascular Area includes elliptical trainers, treadmills, Stairmasters, rowing machines, stationary cycles and an arm-crank ergometer. Mats are available for stretching and abdominal exercises.
Locker rooms complete with steam room, sauna and showers
Locker rental and towel service
Items available for check out include weight belts, basketballs, footballs, badmiton racquets, horseshoes, chess sets and much more!