College of Health Sciences
Marriage & Family Therapy
Welcome to ULM Marriage & Family Therapy
We offer a Master of Arts degree accredited by COAMFTE and a COAMFTE Accredited Doctor of Philosophy degree. Please note that an online theoretical (non-clinical) Doctor of Philosophy degree in Marriage and Family Therapy with a concentration in Systemic Studies is administratively separate from the COAMFTE programs - please check the Systemic Studies link for further information about the online doctoral program.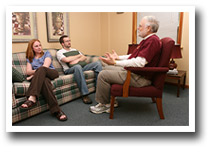 "Any of our distinguished faculty or staff would be delighted to assist you in learning more about our programs. Contact us today and find out more about our foundational and systemically oriented educational approaches clinical practice, scholarship, and ethics."
- Dr. Jana Sutton
ULM is one of only a few universities in the U.S. that offers a M.A. MFT program accredited by COAMFTE. The Clinical Ph.D. in Marriage and Family Therapy is accredited by the COAMFTE.
For more Information:  sutton@ulm.edu
 
About the Programs
---
The Ph.D. degree program in Marriage and Family Therapy at University of Louisiana at Monroe prepares graduates for careers as scholars/teachers, researchers, supervisors and senior clinicians. The 69 credit-hour program integrates systemically oriented philosophy and theory, clinical practice, and qualitative and quantitative research.
PhD to Graduate Achievement Data (GAD)-PhD


The M.A. degree program is an intensive, 60 credit-hour program requiring two years of full-time study. Graduates of the program meet academic requirements for licensure as a marriage and family therapist in Louisiana as well as Clinical Membership of AAMFT and licensure in other states as marriage and family therapists. The program is dedicated to educating highly qualified masters level clinicians and scholars.

Outcomes/Employment
---
Recent graduates from the ULM program have found employment in settings such as:
private practice

program directors at hospitals

directors of services at homes for children

therapists performing a variety of services with a wide range of problems in mental health
Graduates are also active in family life education and enrichment in a variety of contexts. Approximately 10-15% of the graduates from the ULM program have pursued doctorates in marriage and family therapy or related fields.