Published November 11, 2013
Five seniors from the University of Louisiana at Monroe College of Business gained valuable experience as interns this past summer and left with much more than they bargained for—job offers.
Nick Vargo, a construction management major from Bossier City; Mikki Caldwell, a risk management and insurance major from Monroe; Lesley Engolia, an accounting major from New Orleans; Ashley Boykin, a risk management and insurance major from Shreveport; and John Owen, a finance major from Alto were all offered full-time positions after completing their internships.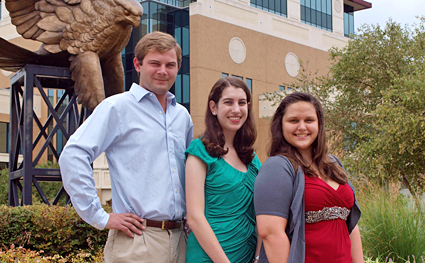 "Internships provide a great opportunity for students to apply knowledge they are learning in the classroom and to extend that knowledge in a practical sense," said Dr. Ron Berry, dean the College of Business.
"Internships also provide students an opportunity to learn about careers, positions and companies prior to graduation."
Vargo completed his internship with Kiewit Offshore Services in Houston, Texas and noted, "My main goal was to get experience in my field before I graduate."
Caldwell—who interned with America's Insurance Company in New Orleans—said, "I learned what it's like to go out on a claim and take a claim. It definitely helped my time management and taught me how to multi-task, which is a big thing in the industry."
Boykin credits ULM for the strong foundational knowledge and skills she brought to her internship.
"From my classes here at ULM, they gave me a great base foundational knowledge for everything…going and interning gave me the experience to season what I've learned from ULM.  I feel like I have a great foundation…to go far in my career."
Berry attributes the success of the ULM College of Business and its alumni to the small class size and hands-on approach of the department. 
"The College of Business has a strong focus on our vision of being student centered and excellence driven," he said.
"We have created special programs to financially support students in internships and work closely with the business community and our alumni to identify internship opportunities for our students.  Our academic programs are high quality as evidence by our international accreditation with AACSB–International."
Owens agrees with Berry and explains, "The personalized experience is a huge part…I think we are on par with everyone else, if not better."
For more information about ULM's College of Business, call 318-342–1100 or visit ulm.edu/cba