Published May 07, 2014
The Medical Laboratory Sciences program at the University of Louisiana at Monroe has begun registering students for fall 2014, after the university withdrew its program termination request from consideration by the Louisiana Board of Regents.
Budget cuts forced a university proposal to eventually shutter the program in 2015, but through collaborative efforts of various healthcare professionals and the ULM MLS faculty and administration, the program will continue as a premier platform in the region, providing hospitals with medical laboratory scientists who are integral in the detection of illness.
More than 20 providers committed to funding the program over the next two years. Efforts by the MLS faculty and the community partners to recruit more students into the program are expected to produce self-sufficiency after that time.
"I am very happy about the new partnerships," said ULM president Dr. Nick J. Bruno.
"I am grateful to the medical community for stepping in, and to the faculty for getting heavily involved in the recruiting process. This is another great community and university partnership and we all look forward to growing the program together."
The university set a plan for reorganization in October 2013 which did not include the continuation of the MLS program, due to the high cost of educating the small student population.
Upon learning of the fate of the program, members of the area's healthcare community conveyed the need to continue the program and began an effort to work with the university for a solution.
"In northeast Louisiana, we are the poorest part of the state," said Debbie Wisenor, director of the MLS program.
"The termination of the program would have stopped the local supply of qualified medical laboratory scientists to this region, and many of the hospital CEOs and lab managers recognized that…and came forward and began to educate the public on the important work we do."
In an article titled "Help Wanted: Lab Workers," Douglas A Beigel, Chief Executive Officer of COLA—a Maryland based nonprofit whose purpose is to promote excellence in laboratory medicine and patient care through a program of voluntary education, consultation and accreditation—warns of a potential critical situation brewing in laboratories.
"According to an annual survey performed by the American Society for Clinical Pathology (ASCP), laboratory professions are seeing an average vacancy rate of five to six percent, depending on the department," said Beigel. "Federal statistics also document the shortage. According to the Bureau of Labor Statistics (BLS), more than 40,000 current lab jobs are vacant in the United States."
"The size of projected shortages is even more daunting," continued Beigel. "According to the most recent BLS study in 2012, 7,100 new jobs in medical- and clinical-laboratory technology will be created annually by 2022. In addition, the current workforce is expected to have a replacement rate of 26 percent, totaling an additional 8,500 jobs needed annually for the 10-year period."
"Although these figures indicate a need for approximately 15,600 new laboratory professionals annually, educational programs are producing only about 8,200 graduates per year."
Wisenor shares that sentiment. "With a four-year MLS degree, our graduates can enter the field making $58k a year. There are jobs everywhere," she said. "One hundred percent of our graduates are employed within three months of graduation and most have job offers before graduation."
"There are openings across the country due to the shortage, but with the program located here, we are more likely to get them to stay in the region and that's the goal. We want to train them in our local and regional hospitals and keep them here."
According to Wisenor, Regent Joe Farr, hospital administrator Mickey Carroll, and Dr. Lee Pankey were three key people who joined with MLS faculty and the Medical Laboratory Science Coalition of Northeast Louisiana in a grass-roots effort to keep the program open.
"Several people in the MLS community went to a Board of Regents meeting to ask that the request to close the program be tabled until we could find a solution, and it was granted," Wisenor said.
"Mickey Carroll and Dr. Pankey were phenomenal in getting lab and clinic support. For those small entities to support the program is a testimony to how much they realize how valuable the program is in this region."
In a letter written to the Louisiana Board of Regents, Pankey, a pathologist and lab director with over 34 years of experience said, "Under the direction of Debbie Wisenor, this program produces outstanding quality medical technologists who have…100 percent passing rate of their registry boards. These are our leaders, our managers, our professionals in the laboratories of our hospitals, clinics and private labs. Without them and without this program, many of these labs and, in reality, hospitals may not survive."
MLS programs at ULM, McNeese State University, LSU Health Sciences Center-Shreveport and LSU Health Sciences Center-New Orleans are the only programs at public universities in the state with accreditation from the National Accrediting Agency for Clinical Laboratory Sciences.
"Medical laboratory scientists are behind the scenes," Wisenor continued "We're the healthcare detectives in the lab doing the analysis on blood and body fluids, and it's estimated that 70 percent of medical decisions are based upon laboratory data. Without the laboratory data, healthcare as we know it would not exist."
ULM Vice President for Academic Affairs Dr. Eric A. Pani noted, "Universities are faced with the challenge of meeting workforce needs—even critical ones like this—with substantially less state financial support than we had five years ago."
"Tuition increases have offset part of those losses, but we strive to keep college affordable for our students, so ULM tuition remains relatively low. Unless fiscal policy changes, I expect policy makers will be looking for university-community partnership like this to develop more often in the future."
Now that the program can begin enrolling students again, Wisenor looks forward to recruiting the next generation of medical laboratory scientists.
"We're recruiting for our next class and accepting applications through summer," she said. "I will be happy to meet with any students who have questions about the program. Our degree plan is very rigorous and very similar to pre-pharmacy."
"We are looking for students who are critical thinkers, who like to solve puzzles, and who want to figure out what's going on inside of the body. They receive an excellent education, and that's why we have excellent outcomes." 
For more information about the ULM MLS program, or to begin the registration progress, visit ulm.edu/mls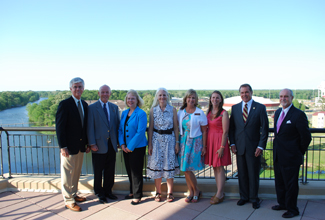 About the ULM MLS program:
Medical Laboratory Science (MLS) is defined as the branch of medicine concerned with the performance of laboratory determinations and analyses used in the diagnosis and treatment of disease. This profession combines the challenges and rewards of medicine and science.
The Medical Laboratory Science Department administers the MLS program under the auspices of ULM's College of Health and Pharmaceutical Sciences. The program is a minimum four-year curriculum, which includes a solid foundation in basic sciences, a broad background in medical laboratory science with several specialized courses, and sufficient non-science courses to provide the student with a well-rounded education.
ULM's MLS students consistently earn a 100 percent pass rate on the American Society for Clinical Pathology (ASCP) Board of Certification Exam, which is above the national pass rate of 86 percent according to the ASCP.
There are 22 students currently enrolled in ULM's professional MLS program.
Photo Courtesy