Published October 23, 2014
The Spring Musical at the University of Louisiana at Monroe has become a must see event over the years, with recent multiple sold out performances of "Chicago," "Guys and Dolls," and "Into the Woods." In spring 2015, the School of Visual and Performing Arts looks to continue that success with its selection of "West Side Story."
The musical will be directed by Robin Stephens, with musical direction from Dr. Deborah Chandler.
The popular Broadway musical, inspired by Shakespeare's "Romeo and Juliet," is set in the Upper West Side, an ethnic, blue collar neighborhood, in New York City in the mid-1950s. The musical explores the rivalry between the Jets and the Sharks, two teenage street gangs of different ethnic backgrounds.
The young protagonist, Tony, a former member of the Jets and best friend of the gang leader, Riff, falls in love with Maria, the sister of Bernardo, the leader of the Sharks. The dark theme, sophisticated music, extended dance scenes, and focus on social problems marked a turning point in American musical theatre.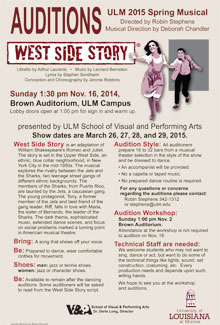 Auditions will be held at 1:30 p.m., on Sunday, Nov. 16, in ULM's Brown Auditorium. Auditions are open to the public, with priority given to ULM students. Doors open at 1 p.m. for warm up.
A special audition workshop will be help prior to auditions at 1 p.m., on Sunday, Nov. 2, in Brown auditorium. Attendance at the workshop is not required.
Those auditioning are asked to prepare 16-32 bars from a musical theater selection in the style of the show, and be dressed to dance. Accompaniment will be provided. A Capella or taped music will not be allowed and a prepared dance routine is not required.
Those auditioning are also asked to be ready to dance and to wear comfortable clothes for movement. Men are to wear jazz or tennis shoes. Women are to wear jazz or character shoes.
"West Side Story" will run March 26-29, 2015 in Brown Auditorium.
For more information, visit ulm.edu/vapa, or contact Robin Stephens at stephens@ulm.edu, or at 318-342-1312.