Published January 16, 2015
The University of Louisiana at Monroe offers various programs that are not offered at every university. ULM's Medical Laboratory Science (MLS) Program is one of those programs, with only three other similar programs offered in the state.
The MLS program is focused on preparing its students to become competent, skilled medical laboratory scientists that are crucial to the medical field.
ULM's MLS program is offered by the College of Health and Pharmaceutical Sciences. Students can complete a Bachelor of Science degree in this program, which makes them eligible to take the national certification exam by the Board of Certification of the American Society for Clinical Pathology.
Some students who earn their credentials from the board choose to further their education by pursuing more advanced degrees and then applying to enter medical, dental, or law school.
To practice in the state of Louisiana, students who graduate from the program must also be licensed by the Louisiana State Board of Medical Examiners before they begin work.
Medical laboratory scientists are medical professionals who perform clinical analyses and test for the presence or absence of diseases in patients. Their work plays a crucial role in the medical field and the treatment of patients as they study tissues and cells, body fluids, and organisms that could cause infectious diseases. These scientists must work with incredibly sophisticated instruments and complex procedures that allow them to process and analyze a myriad of biological specimens.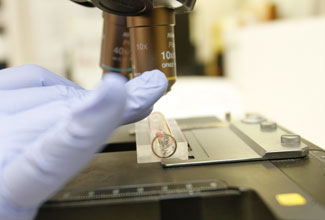 As an MLS, students will train to work in one of the five major laboratory areas: chemistry, hematology, immunohematology, immunology, and microbiology.
All of these departments are critical to the work of identifying and analyzing diseases and abnormalities in the human body and the surrounding environment.
• Using chemistry, scientists look for chemical imbalances in human body fluids to determine whether diseases are present, and look for the best way to treat them if they are.
• Hematology, which is the study of blood, is necessary to identify certain blood diseases or malignancies, such as hemophilia, leukemia, or lymphoma.
• Immunohematology, also known as blood banking, is a branch of science that deals with selecting and preparing compatible, safe, blood for blood transfusions to patients.
• Immunology, which is the study of the human immune system, is imperative in the study of disease. Through immunology, they study the faults or weaknesses in the immune system and the contraction of certain diseases and how they can possibly be prevented.
• Microbiology is the study of microorganisms. Bacteria, viruses, fungi and parasites are all microorganisms that can harm the human body and cause illnesses.
As a Medical Laboratory Scientist, students will learn to:
• analyze body fluids
• study blood samples
• operate sophisticated laboratory equipment: instruments, microscopes, cell counters, etc.
• log data from medical tests
• discuss results of laboratory tests with physicians and other healthcare providers.
• identify blood types
• identify the number of cells in a sample
• perform multiple tests at the same time
• use computerized and automated equipment to perform tests
• collect samples
• prepare specimens for testing
• perform manual tests
• identify abnormalities in cells such as cancerous growths
The demand for skilled and dedicated MLS graduates is high, so students who complete the program and earn their certification have various job opportunities. Students often find jobs in hospital laboratories, private practices or clinics, research facilities, forensic laboratories, public health centers, or educational institutions.
Students who enroll in this program will find themselves among professors who are devoted to their students' success. Through this four-year curriculum, they will obtain a sturdy foundation in the basic sciences, an extensive knowledge of medical laboratory science, and several specialized courses for them to base their concentration in. All of this provides ULM's students with a firm and well-rounded education that will prepare them for an exciting career in the medical field.
The program's mission is to provide the state of Louisiana, and beyond, with the next generation of capable, qualified, and ethical medical practitioners. The program seeks to develop and produce able scientists who will strive to make new discoveries and aid their fellow man in the struggle against disease.
The University of Louisiana at Monroe Medical Laboratory Science Program is accredited by the National Accrediting Agency for Clinical Laboratory Sciences.
For more information on the Medical Laboratory Science program please visit
ulm.edu/mls or call 318-342-1637.