Published November 20, 2015
Brigadier General Joanne F. Sheridan, Louisiana Army National Guard, ULM graduate, will serve as the Commencement speaker for ULM's fall ceremony at 10 a.m., Saturday, Dec. 12, in Fant-Ewing Coliseum.
General Sheridan is currently the Assistant Adjutant General – Army for the Louisiana National Guard. She serves as the principal military advisor to The Adjutant General of the State of Louisiana and is responsible for assisting in the deployment and coordination of programs, policies, and plans for the Louisiana Army National Guard.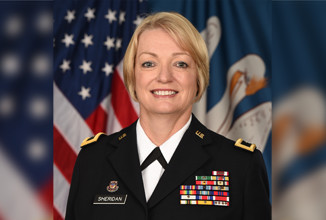 General Sheridan graduated from Leesville High School in Leesville, Louisiana and attended Northeast Louisiana University in Monroe, Louisiana where she received a Bachelor of Arts Degree in Sociology. General Sheridan received her commission through the Reserve Officer Training Corps in May 1983. 
General Sheridan began her military career on active duty from February 1984 through September 1988. Her first duty assignment was in the 5th Infantry Division (Mechanized) at Fort Polk, Louisiana where she served as the Assistant G-1, Plans and Policies. She was assigned to various personnel and administrative positions during her three-year tour. Following that assignment, General Sheridan served as the Assistant Operations Officer in the 5th U.S. Army Recruiting Battalion in Jackson, Mississippi.
General Sheridan was appointed in the Louisiana Army National Guard in October 1988. She served as the Assistant S-1, Headquarters Detachment Commander, and S-1 in the 61st Troop Command; the Education Services Officer, Deputy Director of Military Personnel, Deputy Director of Information Management, Deputy Chief of Staff, Director of Personnel – J1, and Vice Chief of the Joint Staff in the Joint Force Headquarters-Louisiana; Commander, 415th Military Intelligence Battalion and Commander, 199th Regiment (Regional Training Institute). General Sheridan deployed in Support of Operation Iraqi Freedom in 2008 where she served as the Director of the Project Management Office on the Task Force to Improve Business and Stability Operations in Iraq.
General Sheridan's military education includes the Adjutant General Officer Basic and Advanced Courses, Combined Arms Staff Services School, the Command and General Staff College, and the U.S. Army War College where she received her Master of Strategic Studies degree.
General Sheridan is the daughter of Command Sergeant Major (Retired) Joe S. Fernald and the late Marion Colbeth Voita. General Sheridan and her husband Mark reside in New Orleans, Louisiana. They have two sons, Patrick and Daniel.
For more information about ULM's Fall 2015 commencement, please visit ulm.edu/commencement.