Spring 2020 Celebration & Recognition
Watch the ULM Virtual Recognition Ceremony streaming live on ulm.edu/commencement at 10 a.m. Saturday, May 16. Join us in congratulating the ULM Spring 2020 graduates. The regular commencement ceremony has been rescheduled to Saturday, Aug. 8, 2020.
The names of each graduate will be scrolled during the ceremony. Before the final count, it is estimated ULM will have the largest number of graduates in its history, with more than 1,000 students completing their degrees.
Two ways to view our online celebration
---
It's Time To Celebrate!
GIPHY
Search #ULMGrad on Facebook, Instagram and Snapchat to find the perfect GIF or sticker to celebrate your big day!
Instagram
Personalize your grad cap and drop your senior quote! Don't forget to tag #ULMGrad and @ulmonroe to be featured!
Facebook
Add a Facebook frame to your profile!
Spotify
Whether in-person or online, the ULM class of 2020 knows how to have a good time. Celebrate their achievements with some classic feel-good tunes and a few songs that define their college experience. Congrats, grads!
Zoom
Though we may be separated by physical distance, we want to give our graduates the opportunity to make their commencement feel a little closer to the bayou. You can download these ULM images and add one as your Zoom virtual background.
---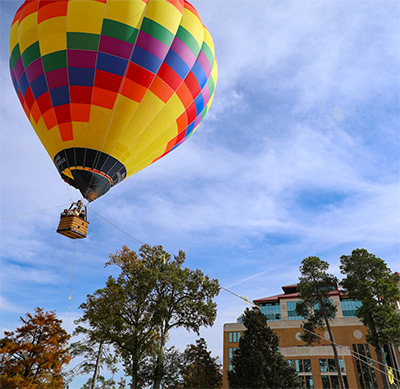 A Time to Reminisce...
Take a look back at your time at ULM. Remember the walks along beautiful Bayou DeSiard, your PREP session, or receiving an award for your hard work. Maybe you were one of our many online students and are planning your first visit to campus. Our photo gallery chronicles life at ULM, on the playing fields, in the classroom and in the community. Explore the gallery site. Below are a few of our favorite links. 
Photo Galleries:  Warhawk Life | PREP | Photos of the Week