Published July 9, 2019
The University of Louisiana Monroe's Precision Ag and UAS (Unmanned Aircraft Systems) Research Center recently joined AeroVironment Inc.'s University Collaboration Project utilizing AeroVironment Quantix drones and the AeroVironment Decision Support System (AV DSS).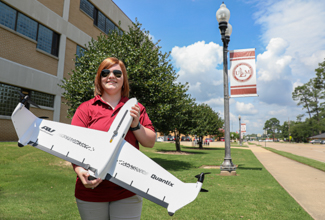 The ULM Precision AG and UAS Research Center is in the Unmanned Aircraft Systems Management Program of the College of Business and Social Sciences.
AeroVironment donated two Quantix drones, along with one year of full access to AV DDS, to the Research Center in exchange for ULM mapping the local ecosystem and agricultural areas and gathering data analytics.
Paul Karlowitz, Director of Operations of the Precision AG and UAS Research Center, and Stephanie Robinson, manager of the research center, are conducting data collection this summer at various locations.
 Quantix is purpose-built for agriculture scouting and can survey up to 400 acres in 45 minutes. Its hybrid design features vertical takeoff and landing. Sensors include an 18-megapixel RGB camera and an 18-megapixel multi-spectral camera with automatic corrections for lighting conditions during mapping flights.
AV DSS allows for a wide range of analysis, including crop growth and health comparisons as the growing season progresses.
Feedback will be reported to AeroVironment weekly and/or monthly, weather permitting, documenting its performance in the field.
According to Karlowitz, "Working with industry leaders such as AeroVironment allows our program to stay on the forefront of the UAS field. The donation of two drones to our program will allow us to provide outstanding hands-on experience to our students."
Read more about ULM's advances in UAS:
Sky high: ULM's Stephanie Robinson licensed to fly drones, November 2018
ULM awarded $90K to teach drone technology for commercial uses, October 2018
The future is here with flight over fields technology, April, 2018