Published March 29, 2019
Several ULM Online graduate programs have earned high rankings by organizations which recognize and evaluate quality higher education programs.

"ULM Online is proud to support online students and faculty in these programs. The faculty do an outstanding job innovating online courses and engaging students at a distance. This type of recognition speaks to the high quality and strength of ULM's Online programs," said Katie Dawson, Interim Director of ULM Online.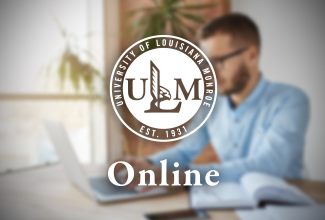 Master of Education 
The Master of Education Gifted and Talented Education program has been named one of the nation's best. OnlineMasters.com ranks the program 24 out of 27 nationwide. It was also named "Most Unique," which, "… speaks to the amazing work that your program is doing," stated information from OnlineMasters.com.

ULM Online's program is the Master of Education, Curriculum & Instruction - Concentration in Special Education in Gifted Education (College of Arts, Education and Sciences).

Master of History
Another ranking in the College of Arts, Education and Sciences is the ULM Online Master of History, according to TheBestSchools.org. The ULM program ranks 18 out of the 25 Best Online Master of History Programs at colleges and universities nationwide. 

A brief description of the 30-credit course delivery mode states, "ULM delivers all online coursework asynchronously and does not require students to visit campus."
For information on the ULM Online Master of Arts in History, visit www.ulm.edu/onlinedegrees.

Dr. John Pratte, Dean of the College of Arts, Education, and Sciences, commented on the impressive rankings, saying, "This is another indicator of the quality of the programs in the College of Arts Education, and Sciences. They have done an amazing job of expanding the size of and access to the programs while maintaining the high standards needed to move into the top programs nationwide. This is great company to be in."

Master of School Counseling
Bestcounselingdegrees.net has named ULM Online as 15 in the Top 40 Affordable Master of School Counseling (College of Health Sciences) online degrees in the country. The CACREP accredits ULM's degree, which offers two tracks of study, Clinical Mental Health Counseling concentration; or the School Counseling concentration. 
Master of Psychology
OnlineDegrees.com recently named ULM Online's Master of Psychology (College of Business and Social Sciences) as number 2 out of 10 in a new national study on the Top Student-Friendly Online Colleges for Psychology and Mental Health. According to OnlineDegrees.com, " … scored well in factors such as tuition, student to faculty ratio and student services, when measured against other schools offering master's degrees in psychology online."

Master of Gerontology
OnlineMasters.com, ranked ULM Online's Master of Gerontology program as 25 of the 27 best in the country for 2019. Students who pursue a Master of Gerontology (College of Business and Social Sciences) typically gain employment as adult care specialists, while others work in fields such as social work, medical science, therapy, and education. The Master of Gerontology offered through ULM Online is a great complimentary credential for those working with non-profit organizations as well. 

U.S. News & World Reports 
Four ULM Online programs were ranked by U.S. News & World Reports as Best Online programs. ULM Online was among more than 1,200 programs examined. According to U.S. News & World Reports, only regionally accredited institutions with programs mostly or completely online were evaluated.
The rankings included:
#138 (tie) in Best Online MBA Programs (College of Business and Social Sciences)
#205 (tie) in Best Online Graduate Education Programs (College of Arts, Education and Sciences)
#217 (tie) in Best Online Bachelor's Programs (ULM Online undergraduate programs)
#55-#71 in Best Online Graduate Criminal Justice Programs (College of Business and Social Sciences)