Published Nov. 4, 2020
The University of Louisiana Monroe held a ceremony on Oct. 29 to officially rename the ULM Child Development Center the Emily Williamson Laboratory School. Williamson was director of the center for 16 years, from 2003 until her death in October 2019.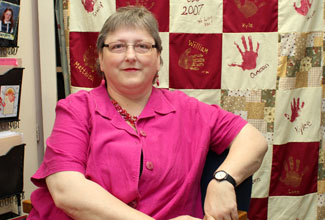 President Dr. Ron Berry said there are still photos on their refrigerator of he and Christine's daughter participating in Trick-or-Treat and Mardi Gras celebrations when she was a student of "Mrs. Emily."
"My wife and I were very fortunate that our daughter grew up under Mrs. Emily's care," Berry said. "So many lives of children and families were impacted by Mrs. Emily. Today is an awesome day to honor her and honor Robert and their family by showing how much we care about her impact on our kids, our neighbors' kids, and our community's kids. She changed lives every day at this school."
Robert Williamson recalled the building which housed the lab school when his wife took over. It was a small frame house with one bathroom, located behind Madison Hall. She had 15 students and needed at least another bathroom, and definitely more space. She was given the building on Cole Street, and there she created an environment of excellence, filled with learning and love. The children in her care were her life's work.
"Every child who entered was hers, and she treated them like that. She remembered every one of them," said Mr. Williamson. "On behalf of her family, her former teachers and students and myself, I appreciate you all being here today, and I appreciate the efforts of the university to rename this in honor of Emily."
Denise Buell, director of the lab school, said although she never met Williamson, she's heard many stories about her.
"The one quote that has resonated through all these stories is 'We are not just a daycare.'
This quote will be the guiding force that will allow the Emily Williamson Lab School to continue to be a shining star for the university and the community," Buell said.
Williamson began her career with an interior design degree from ULM in 1988. By May 1991, she earned a Bachelor of Science in Early Childhood Education, followed by a Master of Education in Instructional Technology in 1991, both from ULM. She received her Family and Child Studies +30 from Louisiana Tech in 2009.
She became director of the ULM Child Development Center in 2003 and continued in this role until her death. Williamson became an instructor for the ULM School of Education in 2010. She was an instructor of Family and Consumer Sciences from 2003-10. In 2008, the center gained a 5-star rating, which it maintains today.