Abang awarded prestigious scholarship; to be honored in NOLA
Published Jan. 2, 2020
Jazz Education Network has recognized University of Louisiana Monroe trumpet performance major Solomon Temitope Abang " … as an aspiring jazz trumpeter, educator, composer, and vocalist" and awarded him the prestigious 2020 David Baker Scholarship.
He travels to New Orleans Jan. 7, 2020, for the Jazz Education Network's International Conference and will be recognized at the JENeral Session on Jan. 9.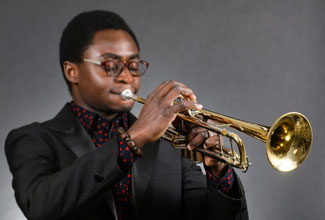 Abang is an international student from Nigeria who chose ULM's School of Visual and Performing Arts for two reasons: New Orleans and Associate Professor of Music Eric Siereveld, D.M.A.
In applying for the scholarship, Abang writes about his commitment to jazz performance and education.
Abang states, " … (in 2018) I was granted admission to study at the University of Louisiana Monroe; a school I chose because of its proximity to New Orleans ... and its phenomenal trumpet professor, Dr. Eric Siereveld, a relentless advocate for jazz education … I am actively enrolled in the jazz ensemble under the baton of Professor Larry Anderson."  
Abang continues, "Jazz music allows me to represent my thoughts through sounds and words, and most importantly helps me to tell my story to the best of my ability … this scholarship will assist in advancing my course of jazz education here in the U.S., and would provide me the opportunity to assist other up and coming jazz musicians. Additionally, it will allow me to propagate the gospel of jazz across the globe and particularly in my home of Lagos, Nigeria." 
"Deeply rooted in a wide range of musical genres, Solomon Temitope Abang has surfaced as an aspiring jazz trumpeter, educator, composer, and vocalist."
Jazz Education Network
Established in 2010 by world-renowned jazz educator Jamey Aebersold, the David Baker Scholarship honors the legacy and contributions of the late Indiana University Jazz Studies Department Chair, NEA Jazz Master, and JEN LeJENd of Jazz Education.
Siereveld, who studied with Baker, said, "I can think of no one more deserving of this award than Solomon. He is a hardworking, dedicated young man, constantly striving to advance his craft. As a former student of David Baker, I can say that Solomon reflects the same fierce spirit and commitment to the jazz artform that David had, and it is a personal point of pride that Solomon has the opportunity to contribute to David's interminable and dynamic legacy."
The scholarship is given in recognition of an outstanding university student that demonstrates talent, spirit, and commitment to the field of jazz studies. There were many applicants/nominees from several national and internationally acclaimed schools for this award. 
On Facebook, Jazz Education Network describes Abang as, "Deeply rooted in a wide range of musical genres, Solomon Temitope Abang has surfaced as an aspiring jazz trumpeter, educator, composer, and vocalist. Born in 1995 in the city of Ibadan, Nigeria, the largest city in Western Africa, Solomon has been actively engaged for over a decade as a performer, educator, and composer of jazz, classical and African music with notable awards to his name."
Abang said, "It is humbling to be the recipient of this prestigious award, and I want to extend a tremendous "thank you' to all my professors and instructors here at ULM. I'd also like to thank the Jazz Education Network for selecting me as the scholarship recipient. This tremendous gift will provide me the opportunity to give back to the jazz community and inspires me to follow in the footsteps of celebrated jazz educator David Baker."
Photo by Emerald McIntyre/ULM Photo Services