Published Jan. 10. 2020
The National Weather Service has issued a severe weather alert for all of north, central and Northeast Louisiana, including the University of Louisiana Monroe campus and community.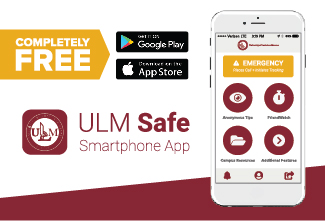 A Significant Severe Weather Event continues to look very likely late today (Friday, Jan. 10, 2020) through Saturday morning.
All severe weather threats will be possible. Damaging winds and tornadoes are of the greatest concern.
Heavy rain also may lead to flash flooding. A Flash Flood Watch is in effect for northern parts of the area.
This system will strike in the night; please prepare before going to bed and know where to take shelter in a tornado warning. Turn on weather alerts and local weather stations.
ULM will issue statements on ULM Safe (download at  App Store and Google Play), campuswide email, ulm.edu and ULM Facebook, Twitter @ulm_official, and Instagram ulmonroe. Stay informed at 90.3 KEDM , Facebook National Weather Service Shreveport, Twitter @NWSShreveport.
For emergencies on campus, use the ULM Safe app to contact the University Police Department, call 318-342-5350 or 911.
#staysafewarhawks #thebestisonthebayou
Useful links: