Published May 27, 2021
Medical Laboratory Science students at the University of Louisiana Monroe competed against and won a virtual bowl competition against University of Arkansas for Medical Sciences MLS students.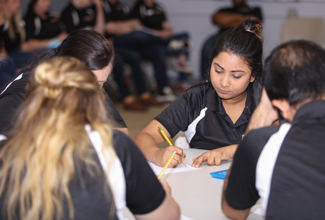 University of Louisiana Monroe MLS students in the School of Allied Health, College of Health Sciences, participated in a bowl competition against University of Arkansas for Medical Sciences MLS students. ULM MLS was the winner in the day-long contest.

 

Jamuna Tandukar/ULM Photo Services
Six teams from ULM competed against two teams from Arkansas on April 28, before the spring 2021 semester ended. 
Jessica Lassiter, MLS Associate Professor and Program Director, said, "The annual student bowl competition is engaging and uplifting for the graduating students. In this competition, the graduating MLS students prove their MLS competence by answering knowledge-based questions at a rapid and intense pace. MLS students practiced weekly for this competition with hopes to win the competition and ultimately successfully pass their national certification exam. The MLS faculty are proud of all our MLS students. The winning student bowl team was amazing. Without the help from their classmates, faculty, and alumni, this competition would not have been possible." 
After several hours of double-elimination competition, two ULM teams vied for the championship. 
Entering the final round, undefeated Team #1, with captain Connor Roan, Bailey Mercer, Molly Mobley, William Pearson, and Peyton Roussell, faced single-loss Team #6, with captain Chance Foret, Caleb Boyte, Alexa Garlington, Bennie Kirkikis, Shannon Johnson, Nathan Parks, Chloe Paul, and Cidney Whitman.
Team #6 upset Team #1, 40-25, resulting in another final round of play. In the end, Team #1 was victorious by 10 points.
Serving as judges and moderators for the student bowl were Rosalie Hendrix and Juliana Kemege, both ULM MLS alumnae who work at St. Francis Medical Center.
MLS faculty members Lassiter, Emilea Haddox, and Debbie Wisenor planned the competition for several months to help prepare the graduating MLS students for the Board of Certification exam administered by the American Society for Clinical Pathology. 
MLS is in the School of Allied Health in the College of Health Sciences. For more information on the MLS program, visit ulm.edu/mls.