Published June 23, 2021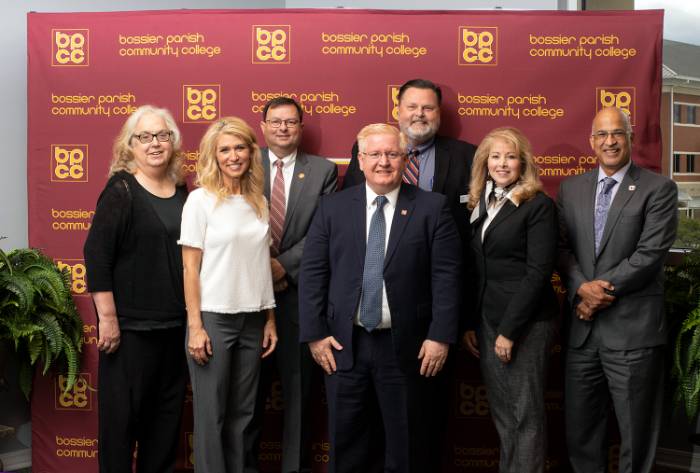 Attending the signing of a memorandum of understanding between the University of Louisiana Monroe and Bossier Parish Community College were, from left, in front, representing BPCC, Carolyn Burroughs, Kelly Brandon, Chancellor Dr. Rick Bateman, Jr., and Dr. Holly French-Hart; and in back from ULM, President Ron Berry, Dean of Health Sciences Dr. Don Simpson, and Vice President of Academic Affairs Dr. Alberto Ruiz.
ULM and Bossier Parish Community College sign memorandum of understanding
The University of Louisiana Monroe is now accepting credits from Bossier Parish Community College students who have completed the two-year Associate of Applied Science in Occupational Therapy Assistant program. BPCC students can transfer their credits toward three Health Studies programs in the ULM College of Health Sciences, School of Allied Health.
ULM President Ron Berry and BPCC Chancellor Rick Bateman Jr. signed a memorandum of understanding in June.
The MOU addresses course and program transfer and articulation agreements for the Associate of Applied Science in Occupational Therapy Assistant at BPCC and three unique Bachelor of Science in Health Studies tracks at ULM. 
Specifically, learners will have the option of pursuing the Healthcare Management and Marketing, the Distant Learning Healthcare Management and Marketing, or the Pre-Professional tracks at ULM. 
College of Health Sciences Dean Don Simpson, Ph.D., said the partnership represents the superior teaching philosophies at both institutions.
"I sincerely appreciate the great collaboration provided by Ms. Kelly Brandon at BPCC and Dr. Jessica Dolecheck at ULM in pulling this opportunity together," he said. "In addition to them both being an occupational therapist, the signing and implementation of this MOU demonstrates their 'student-centric' teaching philosophy and how they consistently create extraordinary educational opportunities for students in their respective programs."
Jessica Dolecheck, Ph.D., is ULM Program Coordinator of Health Studies and a professor at ULM. Dolecheck practiced as an occupational therapist for 15 years and has been an educator at ULM for more than 25 years.
Dolecheck said the articulation agreement would help BPCC graduates fulfill their academic careers in a very efficient manner by maximizing the transfer of academic credit to ULM.
"This transfer agreement with BPCC will offer the OTA students a seamless transition to ULM." Dolecheck said. "We understand that today's students want the shortest route to completing a B.S. degree while saving them time and money. Once BPCC graduates transition to ULM, their entire B.S. degree plan is laid out for them so they know their end-point once enrolled which safeguards against taking duplicative courses. Well-crafted articulations such as these will certainly support the educational needs of students and the community while promoting cross-campus collaboration."  
The partnership also comes with scholarship opportunities for eligible students. Those coming from BPCC to ULM will be able to take advantage of the ULM Scholastic Transfer Award (up to $2,400 per year) and the Phi Theta Kappa Award (up to $2,400 total).
Visit ULM's Health Studies (https://www.ulm.edu/healthstudies/index.html) for information, or contact Dr. Dolecheck at 318-324-5583, dolecheck@ulm.edu.