Published Jan. 29, 2021
Listed among the top 100 online business degree programs in the country, the ULM Online Bachelor of Business Administration is ranked No. 79 by U.S. News & World Report. The 2021 edition of the Best Online Bachelor's Programs was announced Jan. 26.
ULM Online's BBA program is the only Louisiana college or university included in the category, which ranked 143 university programs.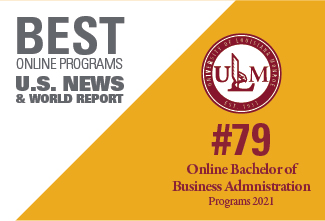 The BBA is through the ULM College of Business and Social Sciences, which is accredited by the Association to Advance Collegiate Schools of Business. 
Peggy Lane, Ph.D., Interim Dean of the College of Business and Social Sciences, said the ULM Online BBA prepares students to enter the business world with the skills and knowledge for success.
"We are pleased to be recognized for the quality business education we provide. Our students, near and far, benefit from the personal attention faculty and staff provide when advising, teaching, and mentoring. With online majors in business administration, management, marketing, and risk management and insurance, students have multiple options when selecting a career path," said Lane.
Jessica Griggs, ULM Online Interim Director, said the U.S. News ranking indicates the ULM program's strength.
"Being recognized as one of the best online BBA programs in the nation shows that at ULM Online and the College of Business and Social Science, we mean business. This is great for the university and, most importantly, our students," Griggs said.
ULM Online offers more than 30 associate, bachelor's, master's, and doctoral degrees. ULM Online is part of Compete LA, the University of Louisiana System's innovative initiative to assist adults ready to complete their college degrees. 
For more information about ULM Online and to register, visit ulm.edu/onlinedegrees/, email: onlinedegrees@ulm.edu, or call 318-342-3145.
Related ULM News
ULM Online MS in Nursing ranks #57 in U.S. News Best Online Programs for 2021
ULM Online program, degrees earn top rankings for fall 2020
ULM receives DRA grant over $1 million for workforce development program