Published March 15, 2021
The University of Louisiana Monroe will offer a graduate certificate in Interprofessional Leadership in Healthcare beginning with the Fall 2021 semester.
The certificate is in the Health Studies program in the School of Allied Health of the ULM College of Health Sciences. It is the only one of its kind in Louisiana.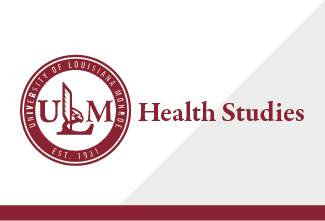 As Louisiana continues to shift toward serving people in the community, there is a need to create healthcare workers who practice interprofessional collaboration, according to Jessica Dolecheck, Ph.D., Program Director of ULM Health Studies.
"This graduate certificate will appeal to many students and healthcare workers as a feasible option for obtaining specialized education and training in interprofessional collaboration with minimal investment of time and money. And can certainly help boost careers, salaries or even transition to new professions," Dolecheck said.
College of Health Sciences Dean Don Simpson, Ph.D., said the reasons for pursuing a graduate certificate vary, but the result is a more highly trained, marketable healthcare professional.
"Earning a graduate certificate in Interprofessional Leadership in Healthcare through ULM will afford learners an opportunity to stay competitive in their current role by allowing them to build upon their skills, but also help them transition into a position with more responsibility or even into a completely different professional role because of the new, valuable skills that employers want and need," Simpson said.
For more information, contact Jessica Dolecheck, Ph.D., dolecheck@ulm.edu, or the Health Studies office, 318-342-5583.
About the graduate certificate in Interprofessional Leadership in Healthcare
The certification is 15 credit hours offered entirely online and is designed to be completed in as little as two semesters.

Provides specialized graduate study in effective and efficient strategies to support interprofessional leadership in various healthcare settings.

Instructors are ULM Health Studies faculty members Kim Theodos, Ph.D., Stacy Starks, Ph.D., and Jodi Bower, Ph.D.

Course offerings include Interprofessional Leadership in Healthcare, Research Methods and Statistics for Health Professionals, Effective Interprofessional Teams, Healthcare Strategic Planning, and Evidence-based Practice in Healthcare.

Meets the core competencies of interprofessional collaborative practice.