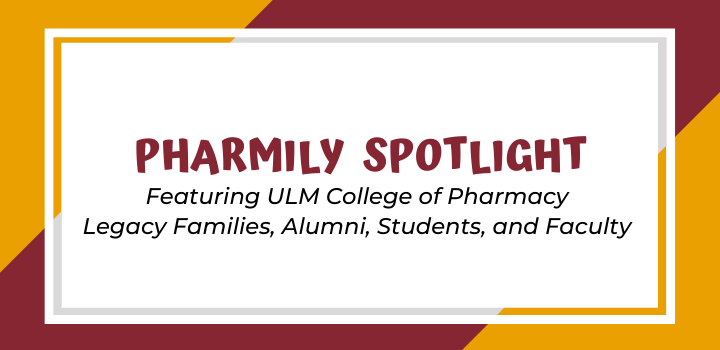 Jared Anders
Jared Anders is a current fourth-year pharmacy student and is the immediate past president of the ULM College of Pharmacy (COP) Student Council. After completing some pre-pharmacy coursework from LSU in Baton Rouge, he obtained a Bachelor of Science degree in Pharmaceutical Sciences from ULM and will graduate with his PharmD in May 2023. He and his wife, Alexa, both from Baton Rouge, moved to Monroe in 2019 with their dog, Stout.
In addition to being the Pharmacy Student Council President, Jared also held leadership positions in Rho Chi, Phi Lambda Sigma, and has served on the Professional Student Affairs and Ethics Committees. He was also selected as Mister ULM 2022!
In the field of pharmacy, Jared is passionate about Emergency Medicine, leadership, and academia. He also advises anyone looking to a career in pharmacy to be passionate about serving others, saying, "It can often be a thankless and selfless job, but it is very rewarding!" In fact, as part of the ULM COP Student Council, he had a key role the past couple of years in helping coordinate and grow the Annual Poor Man's Run – a 5K race benefitting the local St. Vincent DePaul Community Pharmacy (SVDPCP). SVDPCP helps provide medications to the medically underserved and economically disadvantaged throughout the Northeast region of Louisiana.
Even with the duties of his leadership positions and staying on top of his studies, Jared has worked as a pharmacy intern with the Louisiana Healthcare Group and Walgreens over the past couple of years and still manages to find time for some of his hobbies—camping, hiking, and working on cars.
An interesting fact about Jared is that he can play three instruments, the piano, trumpet, and guitar, and has recorded a jazz album at Ocean Way Studios in Nashville, TN!