History of the Program
There was a serious shortage of pharmacists in Louisiana in the early fifties, and the need to serve was evident to many pharmacists in the state. The realization for the need of a pharmacy school in Northern Louisiana was aided by the support of the President L.C. Slater, Representative Lawrence Gibbs, the 5th District Pharmaceutical Association, and countless others.
The collaboration and the diligent efforts of these key people ultimately led to approval of a pharmacy school at Northeast Louisiana State College by the State Board of Education on August 11, 1956.
All fell into place, the school was organized, and the curriculum was offered for the first time in September 1956. By July of 1959 the school had graduated 20 students and received full accreditation.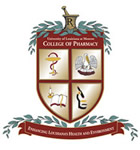 The nation's youngest pharmacy school grew rapidly, and the need for a new pharmacy building became obvious by 1963. It took several years to complete, approve, and fund the plans for the new building, but progress prevailed. On June 29,1970, the college gained university status, and the name was changed to Northeast Louisiana University. And finally, it came to pass that 1971 was "the year Pharmacy moved into a new home."
The ultra-modern facility was named Sugar Hall, in honor of the late Leon Sugar, a prominent Monroe businessman and generous supporter of the school. Fitted with classrooms, laboratories, specialized equipment, student areas and a vivarium, Sugar Hall has rightfully accommodated students and faculty since that time.
On August 27, 1999, the University formally changed its name to the University of Louisiana at Monroe as a part of the University of Louisiana System.  In July of 2005, The School of Pharmacy opted for something other than a name change—It separated from the College of Health Sciences to form the College of Pharmacy.           
The reorganization coincided with the university's purchase of the former State Farm Claims Office on 1800 Bienville Street in Monroe. This building houses the College of Pharmacy and the Office of Outcomes Research and Evaluation.
Names and structures have evolved over the years, and so has the pharmacy curriculum. In the beginning, the program graduated students with a Bachelor of Science Degree after four years. In the fall of 1966, after much revision, the Master of Science Degree was added. Then the Doctor of Philosophy program in the pharmaceutical sciences was initiated with the enrollment of one student in the fall of 1970. By 1998, the Louisiana Board of Regents approved the Doctor of Pharmacy degree program as a replacement for the original Bachelor of Science.
The University Of Louisiana Monroe College Of Pharmacy is Louisiana's College of Pharmacy and is the only publicly supported center for pharmacy education and research in the state. The college, bustling today with students, faculty, research and service activities, exemplifies 50+ years of determination, advancement, and excellence.