Published July 16, 2019
The University of Louisiana Monroe's ULM Online continues to be recognized for excellence in its expanding catalogue of online degree programs. The most recent high rankings are two in business and one in general studies, naming ULM Online among the nation's best programs.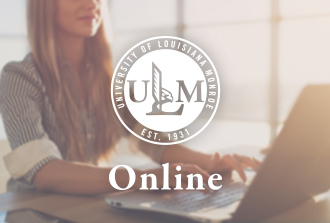 Commenting on the latest accolades, Katie Dawson, Interim Director of ULM Online, said, "We are pleased to be recognized for outstanding academic programs as well as our progressive look at program admission. These rankings show ULM is the university to turn to for online education in the state."
Vice President of Academic Affairs Dr. Alberto Ruiz said ULM Online and the ULM faculty provide the higher education needed for success in a rapidly transforming world.
"I am very proud of our outstanding faculty here at ULM that motivate and prepare students for our ever-changing global society. Our prospective students can earn a quality education here at ULM 100% online," Ruiz said.
"Google Analytics show us these rankings are driving students to our ULM Online website," he added.
Business
ULM Online has achieved national recognition as having one of the 25 Best No-GMAT Online MBA Programs for 2019 according to CollegeCensus.com. GMAT is the Graduate Management Admissions Test.
The ULM Online MBA ranks an impressive No. 5 of 25 and is the only university in Louisiana with this distinction. More than 550 MBA programs nationwide were evaluated for this ranking.
GreatBusinessSchools.org added ULM Online Bachelor of Business Administration to its list of the 10 Most Affordable Bachelor's in Business Online. ULM ranks No. 2, which is ahead of the one other Louisiana institution listed.
Both the MBA and BBA are in the College of Business and Social Sciences. 
General Studies
For the first time, the ULM Online Bachelor of General Studies was named one of the best programs of its kind in the nation.
TheBestSchools.org included ULM Online in the category of Best Online Bachelor's in General Studies Programs. ULM ranks No. 24 in the top 45 universities in the nation.
For more information on ULM Online, please visit ulm.edu/onlinedegrees, email onlinedegrees@ulm.edu or call 318-342-3145.