Published Oct. 8, 2019
As its enrollment increases, so do the accolades achieved by ULM Online. One of the fastest-growing areas in higher education and at the University of Louisiana Monroe, ULM Online offers 16 bachelor's degrees, 14 master's degrees, two doctoral degrees, 4 online certification programs and one associate degree.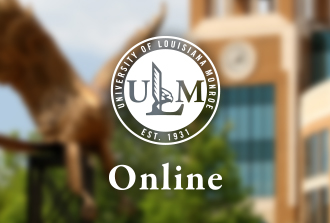 SR Education Group (https://www.sreducationgroup.org/) recently released its listing of the nation's 2020 Best Online Colleges with ULM Online making the list and among the top five in Louisiana.
"ULM Online is proud to offer a wide variety and selection of online degrees at the undergraduate and graduate levels. We work with the best faculty and staff to provide a collaborative and engaging online learning experience for our students," said Katie Dawson, director, ULM Online.
Online-psychology-degrees.org (https://www.online-psychology-degrees.org/best/affordable-masters-counseling/) has ranked the ULM Online Master's in Counseling in the top 30 most affordable programs in the country.
The ULM Master's in Counseling is accredited by the Council for Accrediting of Counseling and Related Educational Programs. The Clinical Mental Health concentration is a highly sought credential in the counseling field.
ULM Online's Bachelor's in Psychology is ranked as one of the nation's 50 best by Top Counseling Schools (https://www.topcounselingschools.org/best/online-bachelor-psychology-degree-programs/).
With a bachelor's in psychology, graduates are prepared for positions in a range of fields, such as career counseling, human resources and market research, as well as a solid foundation for the pursuit of a graduate degree.
The master's in counseling is offered through the College of Health Sciences and the bachelor's in psychology is offered through the College of Business and Social Sciences.
For more information on these and other ULM Online degrees, visit https://www.ulm.edu/onlinedegrees/index.html.
ULM Online in the news –