Published Oct. 16, 2019
Program designed to encourage aspiring teachers
The University of Louisiana Monroe is the first institution of higher learning in the state to offer a pre-educator pathway recognized by the Louisiana Department of Education. The program will be offered to high school students to give them an early start toward teacher certification upon graduation.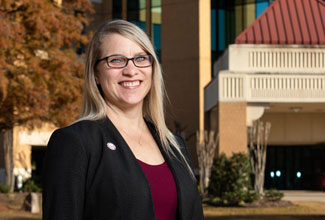 Amy L. Weems, Ed.D., ULM Assistant Professor in the School of Education, coauthored the plan with Lincoln Parish Schools. She presented the ULM Pre-Educator Pathway to the state Board of Secondary and Elementary Education at its Oct. 16 meeting in Baton Rouge. The board unanimously approved the plan.
"We are proud to offer this pathway for high school students who have an interest in serving their communities through the teaching profession," Weems said.
"This pathway was built through strong partnerships with our local school districts. We look forward to helping those districts to train their best and brightest high school students who will return to serve future generations. It is the very best example of how grow-your-own initiatives can exponentially improve the quality of education we can offer to our students to better our communities," she said.
The ULM Pre-Educator Pathway will build on the existing Educators Rising program started by the School of Education in the fall. 
ULM partnered with three area high schools to implement Educators Rising. The initiative encourages and guides high school students toward careers as teachers. Wossman, Neville and Oak Grove high schools are providing preparatory course work through Educators Rising to aspiring teachers.
According to information from BESE, "In this pathway, academic instruction and field experiences will be paired to prepare students to pass required Louisiana teacher certification exams (e.g. Praxis Core Reading, Writing, Math) and ultimately master the General Teacher Competencies required for teacher certification in Louisiana."
High school students who complete the Pre-Educator Pathway will receive the ULM Regional Core Credential. Those enrolling at ULM to pursue a degree in education may transfer credits earned via the pathway. 
Courses offered as dual enrollment/dual credit in the School of Education focus on multicultural learning communities and foundations of education. 
 "The goal was to develop a comprehensive education pathway that includes key content and development of skills to better prepare high school students planning to pursue degrees from the ULM School of Education," Weems said.
For more information about the ULM Pre-Educator Pathway or Educators Rising, contact Weems at weems@ulm.edu or 318-342-1280.
ULM School of Education in the news
·      School of Education partnering with area school districts to encourage next generation of teachers
·      ULM School of Education presents award to Emily Ogden
·      La. High School Teacher of the Year Emily Ogden keeps learning at ULM
·      "Nick and June Were Here" by ULM's Shalanda Stanley launches Feb. 12