Published March 2, 2021
February is the month when many companies release their rankings of the country's best online programs.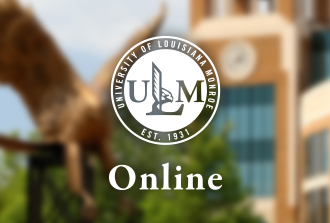 ULM Online at the University of Louisiana Monroe has an impressive five programs in the top 10 in their respective categories. ULM has 11 total rankings, with five of those being the only university in the state making the ranking.
ULM Online's most recent national rankings follow. An asterisk (*) denotes ULM as the only university in Louisiana in the ranking.
In the top 10
More top rankings
December ranking
Gerontology
The ULM Gerontology program ranks No. 3 in the Best 15 Masters in Gerontology Programs in 2021 by Best Value Schools. Anita Sharma, Ph.D., Director of Gerontology, attributes the program's high ranking to several factors.

"The Gerontology program at ULM is unique in more than one way. Not only is it the only graduate program in gerontology in Louisiana, but it is also a truly interdisciplinary program that collaborates across disciplines to provide diverse learning experiences to our students," said Sharma.
History
Both the ULM Online bachelor's and master's in history ranked No. 7 for Best 15 Masters in History Programs in 2021 by Best Value Schools and 30 Best Bachelor's in History by College Rank.
Jeffrey Anderson, Ph.D., ULM History program coordinator, said he was delighted at the double rankings in history and the opportunity for potential students to learn more about the programs.
"In my experience, students find our range of classes, varied faculty expertise, personalized approach, and affordable prices very attractive, and once they experience ULM, they realize that they have made the right choice. Of course, it could go without saying, but should not,   that our success rests on our hard-working faculty who never cease innovating in the classroom and inspiring their students," Anderson said.
Education
ULM's Doctor of Education, Curriculum and Instruction ranks No. 9 of 18 in the Best Doctorate in Education (Ed.D) Degrees by Best Value Schools.
Myra Lovett, Ph.D., director of the ULM School of Education, said the program has been available 100 percent online for 10 years and is geared to meet the students' needs.
"Our candidates are found across the country, working full-time in their chosen fields of expertise, all while pursuing their doctorates. What we offer allows them the flexibility of learning online as they work, while maintaining the rigor of doctoral-level instruction and research," Lovett said.
Counseling
ULM's Master of Science in Counseling is No. 9 in the 30 Affordable Accelerated Master's in Psychology Online Programs 2021 by Best Colleges Online. Counseling Director Thomas Foster, Ph.D., said the ULM program has a combination not offered at other universities in the state.
"The faculty of the Counseling program are very proud of this ranking, as we work hard to provide a quality graduate education to our students. Our program is unique as it is 100 percent online, is housed in a state university, charges affordable tuition, has a multitude of electives, and has four areas of concentration," said Foster.
About ULM Online
ULM Online offers associate, bachelor, master, and doctorate degrees and is part of Compete LA, which assists adults ready to complete their college degrees. For more information about ULM Online and to register, visit ulm.edu/onlinedegrees, email: onlinedegrees@ulm.edu or call 318-342-3145.