Published Oct. 21, 2021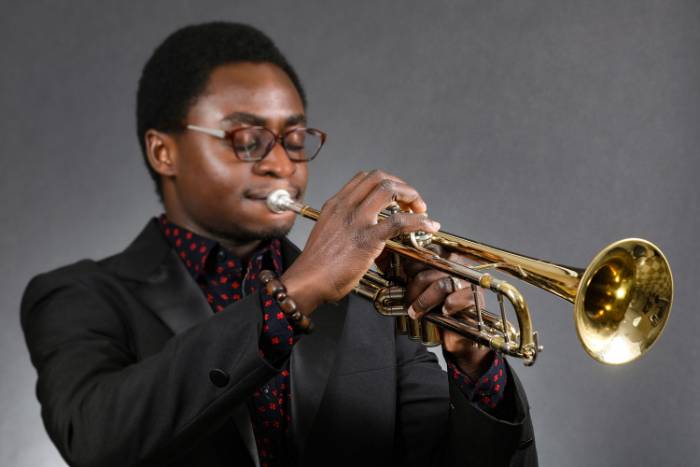 Solomon Abang, a senior majoring in trumpet performance at the ULM School of Visual and Performing Art, will be the featured soloist at the ULM Trumpet Ensemble performance Monday, Oct. 25 at Brown Theatre.                                                                                                     
Siddarth Gaulee/ULM Photo Services
---

WHAT:
 ULM Wind Ensemble performance
WHEN:
 7:30 p.m., Monday, Oct. 25
WHERE:
Brown Theatre at ULM
INFO:
 Free and open to the public
The University of Louisiana Monroe Wind Ensemble presents a free performance on Monday, Oct. 25, in Brown Theatre, featuring trumpet soloist Soloman Abang.
The concert begins at 7:30 p.m., and the public is invited to attend.
Conductors for this performance are School of Visual and Performing Arts Director Derle R. Long, Ph.D., and Assistant Professor of Music Allen Parrish, D.M.A.  
The concert features trumpet soloist Solomon Abang. Abang is a senior trumpet performance major from Lagos, Nigeria. He is featured on the "Carnival of Venice," based on a Neapolitan folk tune called "O Mamma, Mamma Cara," and popularized by violinist and composer Niccolo Paganini, who wrote 20 variations on the original tune. The version of Carnival performed for this concert is a series of themes and variations for solo cornet designed as a "show off" piece requiring virtuoso displays of double and triple tonguing and fast tempos by the performer. 
The program for this performance includes the music of James Clifton Williams, Vittorio Giannini, Boris Kozhevnikov, David Gillingham, Joseph Wilcox Jenkins, Jean Batiste Arban, and Henry Fillmore.  
Williams' "Symphonic Dance No. 5," subtitled "New Generation," is intended to be a humorous, facetious take-off on the Big Band style of the 1940s. 
Jenkins' "American Overture for Band" (1956) was composed for the U.S. Army Field. "Rolling Thunder" is a "screamer," composed by Henry Fillmore in 1916, and is a circus march intended to stir up the audience during the show. "Rolling Thunder" has a fast tempo, extremely technical trombone, and euphonium part and is usually performed as an opener or encore at concerts. 
For more information on the School of Visual and Performing Arts in the College of Business and Social Sciences, visit the webpage, ulm.edu/vapa.