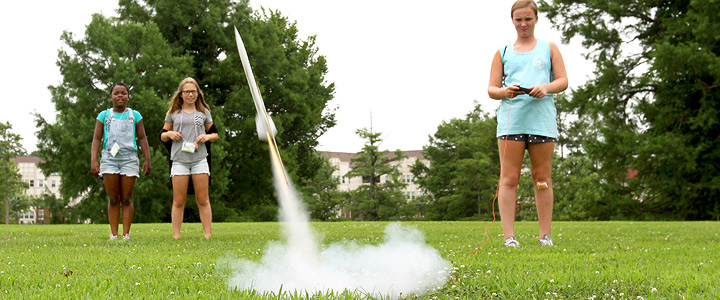 Participants in the Girls Power Up STEM camp launch a rocket on the bank of Bayou DeSiard
2023 Summer Camps to be Announced Soon!
See the links in the menu for sports, music and academic camps.
Hosting a Conference, Camp or Special Event
The University of Louisiana at Monroe provides a spectacular setting for summer camps, conferences and all types of events. ULM offers top-rated full service catering, facilities to accommodate groups large and small, with state-of-the-art technology and support, with a professional staff that will work with you to meet the needs of your event.
Dormitory housing and dining are available to conference and camp attendees, and our proximity to Bayou DeSiard and area attractions make for an abundance of recreational opportunities.
Attending a Conference, Camp or Special Event
ULM welcomes you to your summer program. We will strive to make you feel at home and relaxed on our beautiful bayou campus.
We are proud to host numerous camps and conferences each summer, including academic and professional development conferences, sports and music camps, and all types of business and professional meetings and events.
Find directions, campus map and more information on visiting our campus at www.ulm.edu/omc/visiting.html