Faculty Links
Art Education/Photography

Joni Henry Noble, Professor, Art Program Coordinator, holds a Ph.D. in Curriculum and Instruction (with emphasis in art education) from The University of Texas at Austin, an MFA in Photography from Louisiana Tech University, and a BFA from Northeast Louisiana University (currently The University of Louisiana Monroe).  She has been teaching full time at ULM since 1997, with a one-year absence in 2003-2004 to pursue her Ph.D. in Austin.

Dr. Noble's area of expertise is Art Education, but she also teaches Drawing, Basic Design, Photography, and General Crafts.  Within the area of Art Education she leads courses in Inclusive Art and emphasizes Visual Culture, Discipline-based Art Education and Community Art Studies.  In addition to her on-campus work, Noble has developed an online presence for Art Education studies.

Dr. Noble is the Consortium Director at ULM for the British Studies and Compass Programs, directed by the International Programs Department at the University of Southern Mississippi in Hattiesburg.  Both British Studies and Compass are study-abroad summer courses.  Noble teaches the Art/Photography courses in London, Berlin and Paris each summer.  Students can earn up to 6 hours of graduate or undergraduate coursework during their time in Europe.

Recent exhibitions have included a two-person exhibition at The Shepis Museum in Columbia, Louisiana, a group exhibition at The Snyder Museum in Bastrop, Louisiana, a group exhibition at the ElDorado Fine Arts Center, Arkansas, and a group showing at the Riverfront Casino in Vicksburg, Mississippi.

Dr. Noble's doctoral research was focused on the life and teaching histories of veteran K-12 art educators in north Louisiana and central Mississippi.  Her research question was, "How has art education changed over the last 40 years?"

Dr. Noble is a member of the National Art Education Association, the Louisiana Art Education Association, Kappa Delta Pi, and Phi Lambda Theta.
Please visit the links below for information on
the Art Program's study abroad programs or contact Dr. Noble directly.
  Graphic Design

Brian R. Fassett, Professor, received his Bachelor of Fine Arts, and Master of Arts, degrees from Wayne State University. Following graduation he was employed as an art director and production manager in Detroit, Michigan, and as an adjunct instructor at WSU Department of Art and Art History for two and one half years. Mr. Fassett has been on the faculty of the University of Louisiana Monroe since 1972.

Professor Fassett's current teaching responsibilities include basic design and introductory, intermediate, and advanced courses in graphic design. He has extensive teaching experience in weaving, metal-craft, three-dimensional design, sculpture, art appreciation, and calligraphy.

Mr. Fassett views design not as a cosmetic addition, but as something desperately essential to survival. He entered the design profession to make a difference. This missionary effort has continued through his teaching of art and design. He can affect thousands of people with his designs, but millions of people with the designs of his students.

Professor Fassett believes that effective teaching is more than diligently meeting classes. He believes that active committee memberships and collegial involvement across a university campus have a very significant and positive impact on teaching effectiveness. His continued professional design activity has provided access to people of influence at all levels of academic, business, and civic enterprise. He has produced many creative works in service to the university, community, and beyond. This real-world experience is brought back to his classes to inspire, motivate, and prepare students to become successful professionals.

Professor Fassett on the goal of teaching art. "Not all art students become artists. In these cases one self-serving goal of teaching art could be to make the world more artist-friendly by directing people to become visually receptive to art and design, but there is a more serious goal. My students might become artists or... journalists, songwriters, filmmakers, novelists, accountants, lawyers, dentists, engineers, politicians or teachers. As ULM graduates they will become people of influence. They will, by their careers, their purchases, their memberships, their associations and their votes, guide and shape society well into the next generation. They will influence the design of consumer products, entertainment, highways, suburban and urban communities, airports, parks, governments and governing policies. What I do, can influence their influence, in a good and positive way. That is the power, and the promise, of teaching art."
Painting/Sculpture/Drawing

Cliff Tresner, Associate Professor, comes from a farming background on the plains of Illinois and Indiana. He attended Indiana State University, Terre Haute, IN, and earned a BFA in Sculpture/Woodworking in 1990. From there he came to the south, attending The University of Mississippi, Oxford, MS, and receiving his MFA in sculpture in 1994.

Mr. Tresner has been teaching sculpture and drawing at the University of Louisiana at Monroe (ULM) since 1997. He has received many grants and awards including Best in Show at the Louisiana Contemporary 2014 exhibition at the Ogden Museum of Southern Art, New Orleans, LA; a Louisiana Division of Arts Fellowship; Northeast Louisiana Arts Council's "Artist of the Year Award"; second place award in the National Outdoor Sculpture Competition, Lakeland, FL; and has received numerous Career Advancement Grants from the Louisiana Division of the Arts.

Mr. Tresner has an extensive exhibition record in drawing, painting, and sculpture. His recent focus has been on large-scale outdoor public sculpture with exhibitions in FL, NC, VA, LA, AL, NY, NC, and MS.

He serves the community as director of ULM's Sculpture Garden, an exhibition space devoted to bringing artists from around the nation to the University and local community; Director of ULM's Bry Hall Gallery, exhibiting artists of all disciplines; board member of the Northeast Louisiana Arts Council; and is currently historian of Kappa Pi International Art Fraternity.


Art Appreciation/Sculpture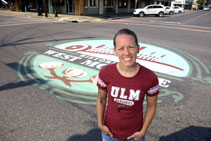 Brooke Foy, Assistant Professor of Art received an MFA in Sculpture from the University of Memphis, Memphis, TN in 2009 and a BFA in Sculpture from the University of Louisiana Monroe, Monroe, LA in 2006.
Brooke's background in creating goes back to the woods where she grew up.  The daughter of a contractor saw every day how to make things that function but was drawn to "make" in a different way.  Making was about play and function.  Today Brooke still reveals the playful in each sculpture she creates while other motifs meander through for the viewer. 
Brooke can be found teaching classes in Art History, 3-D and Sculpture.  She also enjoys assisting with the Kappa Pi International Art Fraternity, as a faculty advisor.  
Ceramics/Art History

Megan Smith, Instructor of Art received her MFA in Studio Art with a concentration in Ceramics from Louisiana Tech University in Ruston, LA in 2016. Her post-baccalaureate work was done from 2010-2012 at Collin College in Plano, TX. She received BFAs in Ceramics and Drawing & Painting from the University of North Texas in Denton, TX in 2008.

Megan comes from a long line of artists and craftsmen. Woodworking, quilting, painting, stained glass, and homemade clothing are her handcrafted family heirlooms. Her father designed and built the first house in which she lived. She has long treasured the value and wonder of the handmade.

As a ceramic artist, Megan's work focuses on the complexities of connection and explores how relationships are affected by humor and turmoil.
---
Ceramics

Gary Ratcliff, Professor Emeritus (Retired 2016 after 39 years of dedicated service)
Former Assistant Director of the School of Visual and Performing Arts and Program Coordinator for Art, taught beginning and advanced level pottery at ULM. His work is extensively exhibited in regional shows and he actively participates in the Monroe community as a ceramics demonstrator and workshop performer.
A former math major turned artist, Mr. Ratcliff holds the B.A. degree in ceramics from Greenville College in Illinois and the M.F.A. in ceramics from East Texas State University. His work is characterized by fine craftsmanship and creativity, incorporating a variety of traditional and non-traditional techniques. Ratcliff also specializes in designing, building and repairing pottery equipment.