Published March, 23, 2021
WHAT: "What does Women's History mean to me?"
WHEN: 6 p.m., Thursday, March 25
WHERE: Zoom, Meeting ID: 977 0921 4678 Passcode: 726887
COST: Free
INFO: Presented by the ULM History Department
To celebrate March as Women's History Month, the University of Louisiana Monroe History Program is hosting a virtual conversation on "What does Women's History mean to me?" beginning at 6 p.m. on Thursday, March 6.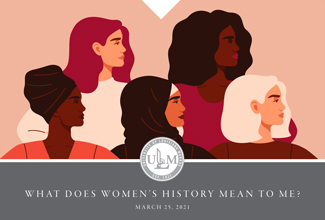 The presentation is free on Zoom, Meeting ID: 977 0921 4678 Passcode: 726887.
Panelests include Pamela Higgins Saulsberry, Ph.D., Executive Director of the ULM Office of Diversity, Equity, and Inclusion, Deborah Chandler, Ph.D., Professor of Music in the School of Visual and Performing Arts, and Jana Giles, Ph.D., Associate Professor of English in the School of Humanities.
All students, faculty and staff, and the community are invited to hear the panelists' views on Women's History and then participate in a discussion. 
The event is organized by Monica Bontty, Ph.D., ULM Professor of History. Bontty noted that Women's History is always being made, sometimes right here at home.
"It is important to recognize the deeds of trailblazers such as Jeanette Rankin, who was the first woman member of Congress," said Bontty. "Currently, there are 141 women serving in the U.S. Senate and House of Representatives, and now, the newly elected Dr. Julia Letlow from Start." 
The presentation will be moderated by Jeffery Anderson, Ph.D., Professor of History.
"Such forums help attendees uncover the meanings of history for themselves," said Anderson. "When we find personal connections to the past, we are able to engage with it much more productively than when we view it as simply a jumble of dates and events."
The ULM History Program is in the School of Humanities in the College of Arts, Education, and Sciences.