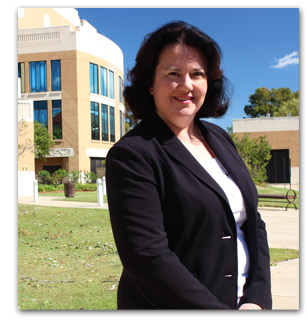 Karen Upright, a senior Modern Languages with a Concentration in French eULM student, was invited by the School of Humanities to present her research commemorating the 100th Anniversary of the beginning of World War I. Karen's presentation was titled "French Civilian Life Behind the Western Front: The Journals of Marie-Madeleine Chaineaux" and she gave her presentation to a packed room on the ULM campus. While in town, Karen visited the Office of eULM to tell us a bit about her story.
When asked why Karen chose eULM she said, "I was looking for an undergraduate French program. At the time, I was traveling internationally for my job quite a bit, so I knew I couldn't take traditional in-class attendance courses." Many of our eULM students have chosen eULM for the flexibility that being enrolled in an online program offers. Karen explained, "I both liked and needed the flexibility associated with online learning. I love that I get the chance to explore new areas of interest on a time-table that fits in with my life." Karen has previously earned a Bachelor of Science in Computer Science from Florida State University and a Master of Business Administration from Purdue University. When we asked her why she chose to pursue a third degree Karen explained, "This degree is something I am doing for myself; to broaden my knowledge of French culture and history and to improve my competency level in the language."
eULM strives to create an online community for our students. We want students enrolled in online programs to know that they are an integral part of the Warhawk Family and want them to establish connections with fellow students, faculty, and staff. When we asked Karen if she felt connected to ULM she responded with, "I have to say that my relationship with Dr. Chris Michaelides, who was my advisor for most of my degree program, has made the process really special for me." Dr. Michaelides encouraged Karen to pursue an independent study program on WWI writings. Karen accepted the challenge and said, "The research subject I chose for the course has turned into a passion project that I am still working on," and although the study program has ended she has continued her research and collaboration with Dr. Michaelides. Karen said, "This is the sort of connection that can be difficult to make in an online program. Much of my first undergraduate degree from another university was also completed online, and I don't feel nearly the same connection with that university as I do with ULM. The personal connections are really important in helping an online student to feel like part of the academic community."
The University is proud of Karen's accomplishments, upcoming graduation, and the contributions that she has made to ULM!
The eULM program is now simply referred to as ULM Online.