Graduate Certificate in Interprofessional Leadership in Healthcare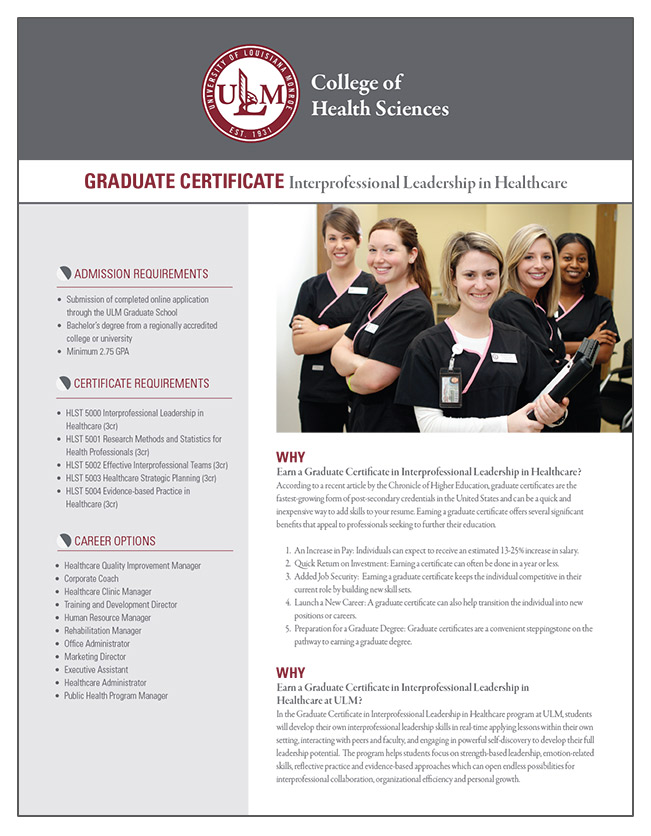 Download More Information
In as little as one year, the 100% online Graduate Certificate in Interprofessional Leadership in Healthcare can provide you with core knowledge needed to position yourself for leadership opportunities in various healthcare organizations, government offices, public health, and other business settings. You will be prepared to lead your team using best practices in communication, strategy, and collaboration.
What you will learn
• Powerful self-discovery to develop one's full interprofessional leadership potential.
• Dynamic strength-based leadership skills, emotion-related capacities, and reflective practice.
• Key techniques of evidence-based practice and data analysis which can open endless. possibilities for interprofessional collaboration, organizational efficiency, and personal growth.
Program Strengths
• Rolling Admissions: Fall, Spring, or Summer
• 100% online 8-week courses allow flexibility
• Complete in less than a year
• Personalized advising and support through faculty mentoring
• Diverse, expert faculty with wide-ranging professional experience
• Interactive assignments designed to be applied quickly to one's current position
• High-level skills, critical thinking, evidence-based methods and communication vital to effective leadership careers
• Meets core competencies of interprofessional collaborative practice
• Prepares students for entry into advanced degree programs
Admission Requirements
• Submission of completed online application through the ULM Graduate School
• Bachelor's degree from a regionally accredited college or university
• Minimum 2.75 GPA
Certificate Requirements (15 credit hour program)
• HLST 5000 Interprofessional Leadership in Healthcare (3cr)
• HLST 5001 Research Methods and Statistics for Health Professionals (3cr)
• HLST 5002 Effective Interprofessional Teams (3cr)
• HLST 5003 Healthcare Strategic Planning (3cr)
• HLST 5004 Evidence-based Practice in Healthcare (3cr)
Graduate Catalog Course Descriptions
For more information see: ULM Graduate School Information & FAQ